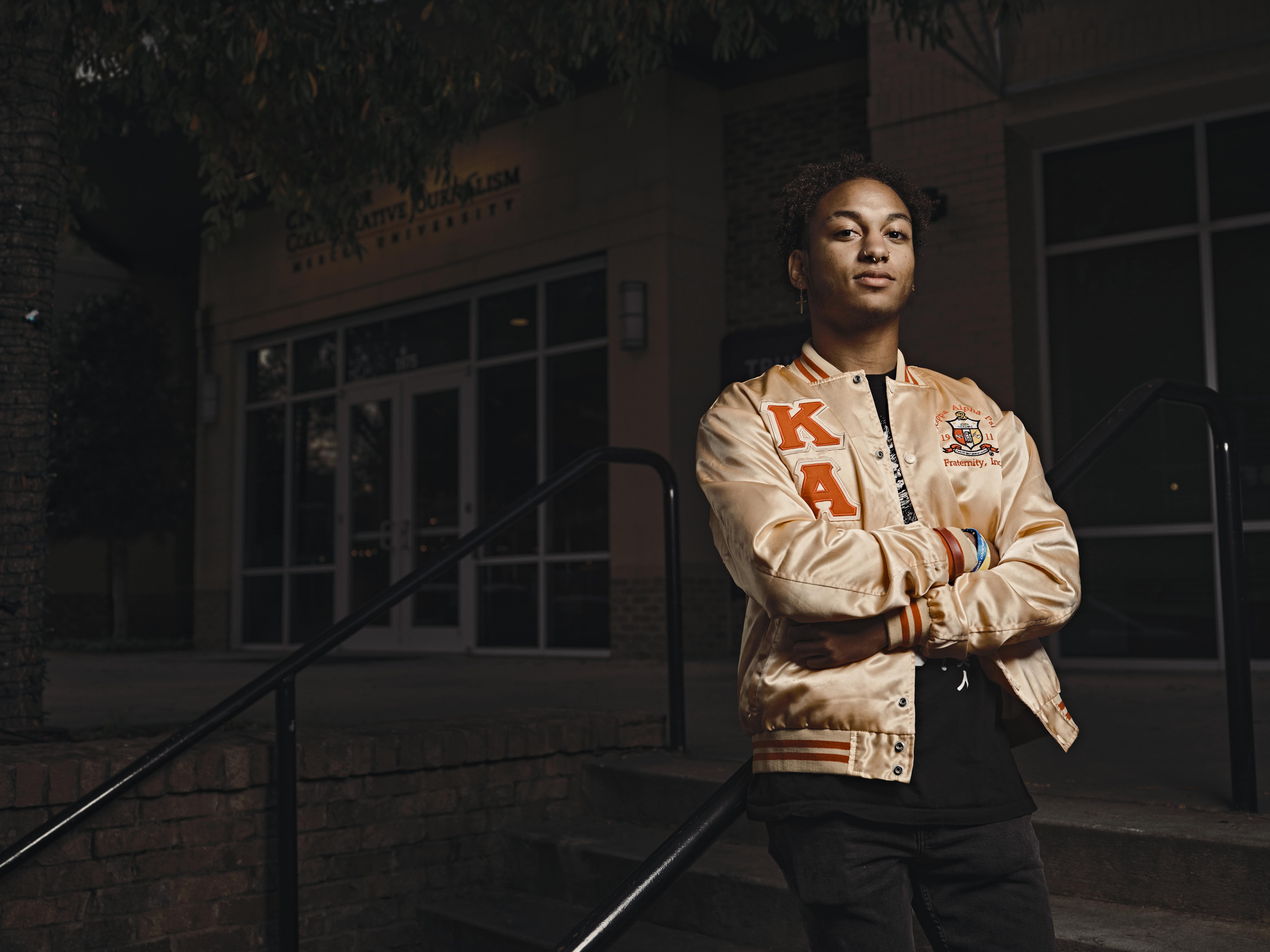 The Macon Newsroom: Knowledge is power
By Lisa Mayfield Spence
Photography by Matt Odom
When the Center for Collaborative Journalism was launched in 2011 as a unique community media team combining Mercer University's liberal arts-based journalism and media studies programs with the professional expertise of The Telegraph, Georgia Public Broadcasting, and 13WMAZ, it set out to transform a city which had obvious geographic, educational, and cultural advantages. It sought improvement in the areas of attachment, openness, economic strength, and an overall sense of community. The partnerships Mercer maintains with these professional news organizations enable its journalism program to stand out from others by offering students experience in television, radio, print, and online media.
Perhaps one of CCJ's greatest proving grounds is The Macon Newsroom, which is treated as one of the partners in the Center's collaborative and serves Mercer's journalism students by operating as a vehicle for publication of their work, also allowing for interaction with journalists. "It's also a good learning lab for students to experience what goes into making news and making a nonprofit newsroom work," explained Debbie R. Blankenship, director of the CCJ and editor of the Newsroom.
Larry Sullivan II, a Mercer senior with a double major in journalism and communication with a minor in media studies, said he appreciates the connections The Macon Newsroom affords him. The Augusta native has enjoyed practicums with the Newsroom, which are mini-internships that allowed him to work closely with CCJ partners one semester at a time. Currently a photo-collaborator for the Macon Telegraph, Sullivan appreciates the opportunity to gain real-world experience through his work with CCJ and its partners. "Honestly, CCJ has changed my life and the path I'm taking," Sullivan explained. "Before my practicums, I had no idea what I wanted to do after college, but now I know I want to be a photojournalist." Sullivan cited unique experiences and opportunities to meet people and enter circles he might not otherwise have had. "I've met NFL players, Senator Jon Ossoff, Miss Georgia, and was even asked to photograph a murder trial," he said. Most importantly, though, he's been offered the opportunity to experience a wide range of journalistic options. "At the Newsroom, I got to produce articles and newsletters and discovered how much I enjoy taking photos and telling stories, so these experiences gave me the first inkling that I wanted to be a photojournalist," Sullivan said.
Mary Helene Hall, a senior with a double major in journalism and women's and gender studies from Fairhope, Alabama, said she chose to attend Mercer largely because of the CCJ. "I had been to Camp CCJ, a summer camp for high school students interested in journalism, and it was my first exposure to Mercer," she recalled. "We spent a week learning to tell stories in new ways; little did I know that I was learning from people who would eventually be my professors." CCJ and its partnerships with local newsrooms drew Hall to Mercer, who recognized the value of the education and exposure. "I knew it would enable me to learn everything I could – in all areas of media — instead of just having to focus on one discipline like I might have had to at a different university," she said. "The Macon Newsroom allows space for young journalists to grow, and our professors encourage us to take risks and step outside the box."
Publishing in the Macon Newsroom allows Mercer's journalism students the opportunity to truly dig into the Macon community, added Meg Donahue, project specialist at CCJ. "In sourcing and writing their stories, the students get a sense of place and context within Macon," she said. "Understanding place and broader context are essential to a journalist whose job is to report stories about that place."
A relatively new kid on the block, The Macon Newsroom launched in spring 2020. Blankenship recalled the Newsroom's beginnings. "In 2018 and 2019 I saw that our local news ecosystem was suffering as newsrooms got smaller and some basic accountability coverage contracted," she explained. At the time, CCJ had a grant with the James L. and John S. Knight Foundation; Blankenship asked whether she might reallocate some of the money to hire a civic journalism fellow who could focus on filling some of the gaps in local news coverage. "Specifically, I was looking at the more than 40 boards, commissions, and agencies that weren't receiving routine media coverage," she said. "I wanted to focus initially on the ones that had the most power when it came to how tax dollars might be spent: the Macon Water Authority, Macon-Bibb Industrial Authority, Macon-Bibb Urban Development Authority, Macon Housing, Planning & Zoning, and Housing Court." The Knight Foundation approved Blankenship's request, and in September 2019, she hired Liz Fabian, veteran multimedia journalist. Additional funding from the Peyton Anderson Foundation in May 2021 allowed the hiring of a second full-time reporting fellow, Laura Corley, a former Mercer student and CCJ graduate.
"Knight Foundation believes that local journalism is crucial for an effective democracy. In Macon, we support Mercer's Center for Collaborative Journalism because it is a community-led partnership that produces fact-based journalism for all Maconites," said Jim Brady, vice president of Knight Foundation's journalism program. "In the early days, the CCJ, in collaboration with The Telegraph and Georgia Public Radio, produced a powerful reporting on blight in Macon, a project that led to the County Commission passing a $14 million bond for blight remediation. Today, we're proud to say that outlets like WMAZ-TV are also partnering in the program, and we look forward to a future of sustainable local journalism that helps build a more informed and engaged Macon."
Karen Lambert, president and CEO of the Peyton Anderson Foundation, agreed: "As owner and publisher of The Macon Telegraph and The Macon News, Peyton T. Anderson Jr. was often called a 'newspaperman's newspaperman.' He was dedicated to the ideals of journalistic ethics and gave his editors great freedom to report the news without interference. Mr. Anderson also firmly believed in giving back to this community that made his success possible." It's why the Peyton Anderson foundation continues its strong support of the CCJ and Macon Newsroom.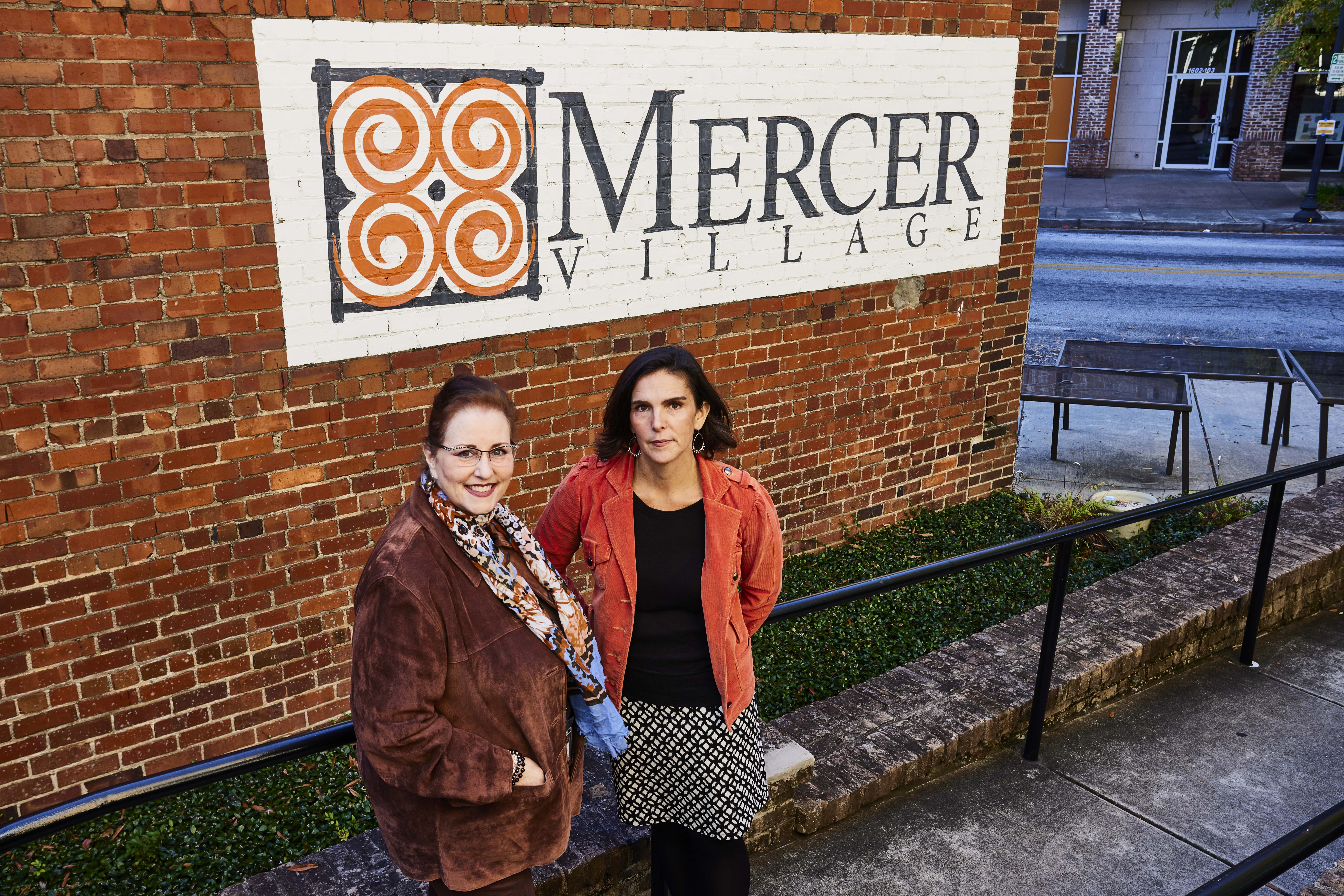 "The Macon Newsroom complements and fills gaps in our local news ecosystem by covering important issues that other local news organizations don't have the resources to cover – primarily in the areas of municipal government, public safety, education, and healthcare," explained Larry Brumley, senior vice president for marketing communications and chief of staff for Mercer University. "Citizens need reliable information about these fundamental components of our community, as well as the decisions elected officials make on a daily basis that impact our lives. It's crucial to a well-functioning democracy."
The Newsroom is meant to fill those omissions in local reporting, Blankenship continued, but its content also is available to other media outlets to use free of charge. "The CCJ collaborative is involved in some of the decisions we make in terms of where we will put our reporting resources, but the content is open to anyone in the community," she said. The Newsroom distributes its reporting through its website and its partners' news sites and maintains both digital and print newsletters distributed through the library. "I see The Macon Newsroom as an extension of Mercer and CCJ's service mission to the community," Blankenship said.
"The Center for Collaborative Journalism continues Peyton Anderson's dedication to truth and transparency in the local newsroom and combines it with an innovative, boots-on-the-ground approach to educating and preparing journalists to sustain these ideals — creating connection with the community whose stories are being shared. He would be proud of the CCJ newsroom named in his honor but even more so of the investment into where journalism starts — at the local news level. Without that engagement and dedication to sustaining news and information, our communities will not thrive and prosper," Lambert concurred.
Laura Corley, civic journalism fellow, said she strongly believes The Macon Newsroom fills a journalistic deficit in the Central Georgia region. "When people talk about news deserts, they think of places without newspapers or TV stations," she explained. "But news deserts exist even in those places because there is still a dearth of information the public needs to know about." Though Macon has a newspaper and several television stations, Corley said that their parent companies had cut staff and gutted resources significantly. "The basic nuts and bolts government isn't being covered," she said. "In that way, Macon is a sort of news desert mirage."
Corley said she is frequently the only reporter at regular meetings of the governmental bodies that make consequential decisions in the community, such as the school board, board of health, and the hospital boards. "A beautiful thing about The Macon Newsroom is that our coverage isn't driven by page views, but by civic importance," she explained. "What's more, we don't compete with news organizations, and our stories may be republished by any other news outlet at no cost."
Quality journalism is vitally important to a healthy community, added Fabian. "Most people don't have the time or ability to sit through regular governmental meetings to stay informed about issues affecting their lives and community," she explained. "They rely on trusted and knowledgeable journalists to provide the information they need to know." Government cannot effectively function in a vacuum, according to Fabian. "Input from an informed public is crucial to stopping overreach and making sure leaders are not abusing power or wasting resources," she said.
People need to know the facts so they may make informed decisions, added Corley. "In an age where anyone can post just about anything online, a trusted source of accurate information is critical to democracy," she said. Each week, according to Corley, elected and appointed decision-makers take votes, adopt measures, and implement rules that directly impact the lives of those in the community. "These decision-makers control how much you'll pay in taxes, how much of that tax money is spent, when it is spent, and what it will pay for," she explained. "Whether it's deciding where a crosswalk should go or who will be the next superintendent of Bibb County schools, quality journalism ensures the public's ability to be informed and engaged with the governmental bodies making those calls. It also ensures accountability," Corley said.
"Knowledge is power," Sullivan added. "The Macon Newsroom provides quality journalism, so people can inform themselves," he said. "That makes a community stronger."