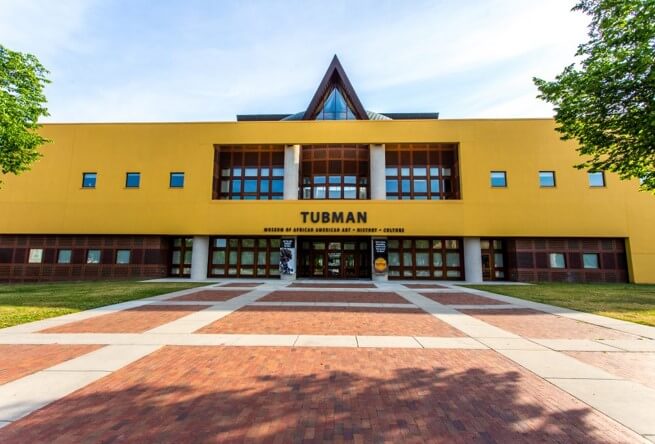 The Tubman Museum's Tyler Perry exhibit promises to awe and inspire
By Eliza Moore
Photography by Matt Odom
The Tubman Museum has spent the past two years preparing for the biggest exhibit in the museum's 40-year history. In February, the museum will host a grand opening ceremony for the Tyler Perry exhibit, the first of its kind in the nation. The exhibit will tell the story of entertainment mogul Tyler Perry's life, struggles, and rise to fame.
Harold Young, executive director of the Tubman Museum, said he always believed in the Tubman's ability to make an impact in the community. Five years ago, when Young was the event coordinator for the museum, he began dreaming of an exhibit that would highlight a living legend and inspire the Macon community.
He immediately thought of actor, comedian, filmmaker, and playwright Tyler Perry. Young had seen Perry's movies, read his books, and attended some of his speeches, and he was deeply inspired by Perry's story.
"If an African American man can do what he did from Louisiana, with a very abusive childhood, and overcome, then so can anyone," Young said. "Don't let your humble beginnings define the rest of your life."
Perry grew up in poverty in New Orleans. He pulled his way out of his situation by moving to Atlanta and putting on his first play at a community theater. From there, he created many successful productions, movies, and a TV program with Oprah. He was on the Time Magazine's list of 100 most influential people in 2020 and inducted into the Black Music and Entertainment Walk of Fame in 2022.
Young is not inspired solely by Tyler Perry's success in the face of adversity, but also by his ability to help others.
"When Harriet Tubman was a slave, when she escaped her situation, she didn't just stay there; she reached back and brought somebody with her," Young said. "That's exactly what (Perry) did. He didn't forget where he came from. He brought up a whole lot of people with him."
On Oct. 31, 2018, Young notified a friend of his who worked for Perry about his idea for the exhibit that would honor Tyler Perry's life and career. It wasn't until 2020 that he received a call from the previous director of Tyler Perry Studios, who informed Young that Perry himself was excited about the idea.
From there, the process officially began. Due to COVID, progress was much slower than expected, but momentum increased rapidly in the past few months. The exhibit will be located in the current Harriet Tubman space and the music room. Perry is expected to visit, though the details are not solidified yet.
This fall, the American Rescue Plan awarded the Tubman Museum $50,000 to market and promote the Perry exhibit.
"It's going to be amazing," Young said.
The Tubman Museum has always been more than a museum — it is a community gathering place. Throughout its longstanding history, the museum has hosted food giveaways, voter registrations, seminars, town hall meetings, weddings, and more.
Because the Tubman museum is a nonprofit organization, it relies largely on grants and fundraisers to remain running. Young said that someday he hopes the museum will not have to work so hard for financial growth and will be free for everyone.
All That Jazz is an annual concert and ball that supports the Tubman Museum. The concert will take place on Jan. 22 and is one of Macon's most anticipated events of the year. For more information, visit tubmanmuseum.com.