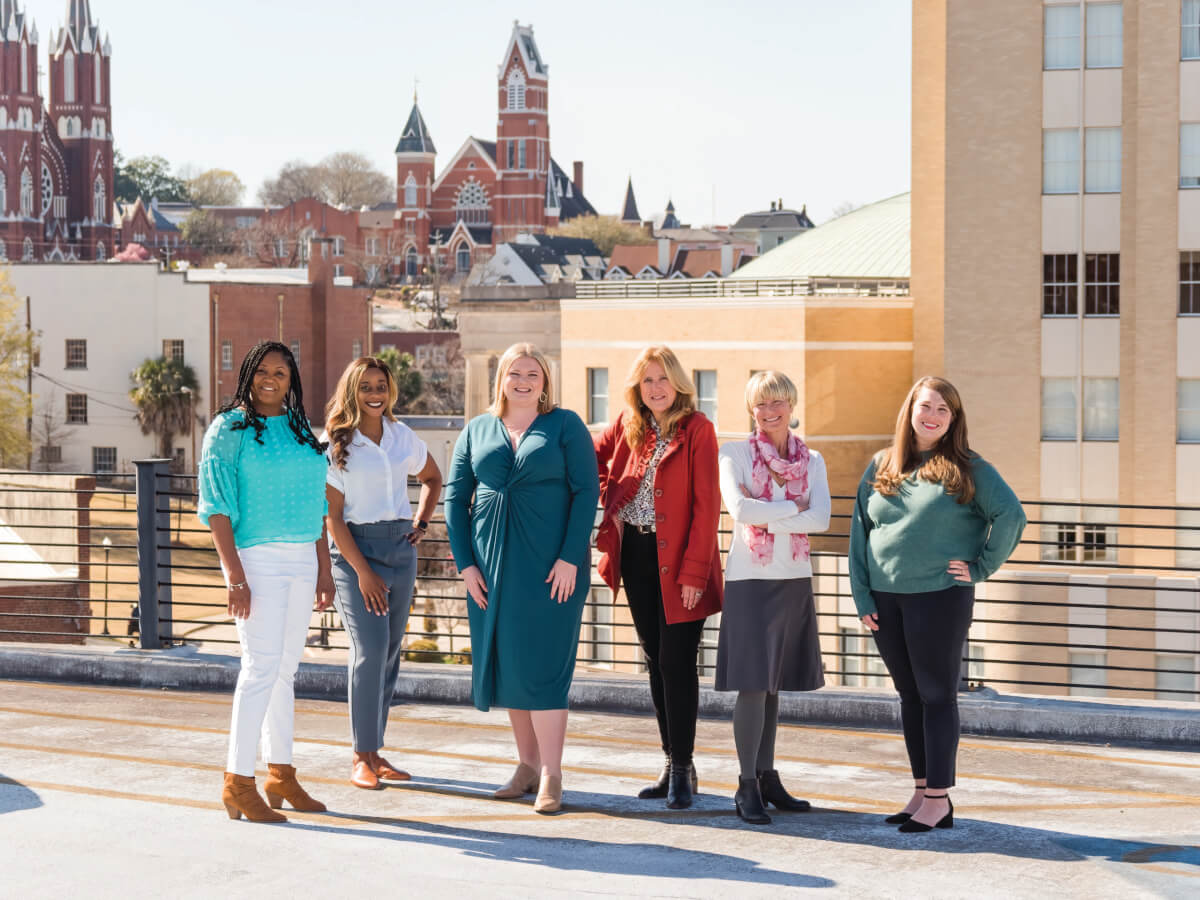 Women in Business 2022: NewTown Macon
A SPECIAL ADVERTISING SECTION CHAMPIONING OUR LOCAL WOMEN IN BUSINESS. PHOTOGRAPHY BY JESSICA WHITLEY.
MACHEITA ADAMS, PORTFOLIO MANAGER & ACCOUNTING CONSULTANT; ERIN KELLER, CHIEF OF STAFF & VICE PRESIDENT FOR DEVELOPMENT; HAILIE POPPELL, DIGITAL CONTENT MANAGER; ANNETTE ANDERSON, FINANCIAL ASSISTANT; BETHANY ROGERS, EXECUTIVE DIRECTOR, NEWTOWN LOANS; EMILY HOPKINS, DIRECTOR OF PLACE
555 Poplar St., Macon
478-722-9909
downtown@newtownmacon.com
newtownmacon.com
What is the mission of your business?
To attract, leverage and invest in self-sustaining transformation.
What lessons did you learn because of the COVID-19 pandemic?
Take time to pause, reflect and rest. The COVID-19 pandemic forced many of us to slow our pace and some of us to stop our work completely. That time for reflection and rest showed us our priorities and spotlighted what tasks and projects steal our peace, contribute to our busyness and ultimately do not move our professional and personal goals forward.
What is your advice for women wanting to start their own business?
Take advantage of the many business resources and coaching available in Central Georgia. NewTown Loans offers group training courses, like our Entrepreneur's Academy and the Downtown Diversity Initiative, that allow participants to network with a cohort of like-minded entrepreneurs. We also offer free monthly webinars that cover topics like marketing, accounting software and other best practices for building a successful and sustainable business.
How do you define success?
We measure success based on fair outcomes, not fair processes. As a CDFI, we are focused on reducing the gender and racial wealth gap in Macon-Bibb County. We work with real estate developers and entrepreneurs who cannot access traditional financing and we provide them the coaching, funding and inspirational capital they need to improve properties, grow sustainable businesses and transform neighborhoods.
What are you most excited about right now in our community?
We are excited to see downtown Macon enter a new phase of revitalization. Loft occupancy is 97 percent occupancy, and storefront occupancy in our target blocks is 80 percent. When NewTown was founded 25 years ago, there were only a handful of lofts downtown and about a third of storefronts were occupied. Transformative projects like Hotel 45 and the increasing number of BIPOC- and woman-owned businesses opening downtown help us move closer to realizing our vision of a vibrant and authentic city experience unparalleled in the South.
Why is Central Georgia a good place to do business?
Our entrepreneurial ecosystem. NewTown Loans and our partners, like SCORE, UGA's Small Business Development Center, the Business and Non-profit Center at the Washington Memorial Library and Macon-Bibb's Office of Small Business Affairs, all have incredible training and mentoring opportunities, many of which are provided at no cost. And there are lots of rewarding ways to network with successful business owners in Central Georgia and meet other aspiring entrepreneurs with groups like Macon Black Tech, SPARK Macon and the Web.
You might be surprised that: NewTown Macon was founded by an influential woman and community leader: Juanita Jordan. Jordan was a force for change in Macon and is the reason the Ocmulgee Heritage Trail and NewTown Macon exist today. We are inspired by her vision and tenacity every day.
What is the most gratifying part of your job?
Seeing small business owners and entrepreneurs we've helped find their niche and scale successfully and, most importantly, sustainably. We've been committed to training entrepreneurs and real estate developers for more than five years. Some of the first graduates of our Entrepreneur's Academy and Developer's Academy have just hit their first million dollars in sales or completed their first real estate project. Launching a business or completing a real estate project can take years, and seeing entrepreneurs stick with it and find success is a reminder that our work is needed and impactful.
What has been the most challenging part of being a woman in business?
As women, we are often people pleasers. We want everyone to walk away from a situation happy and we sometimes have a hard time saying no, even when that is the best answer for everyone involved. Get comfortable with that two-letter word and be real with what products and services you can successfully deliver as an individual. Be sure to extend that practice to your professional life as well as your personal life.
We admire women who: Have developed and own their personal brand. Personal branding can be just as important as the brand of your business, especially for sole proprietors and consultants. Follow up, do what you've promised and use your personal social media to show how you're living out your values.
What was the best business advice you ever received?
Focusing on profitability — not just sales totals or social media likes — will help you make hard, but effective decisions with business strategies and operations, and ultimately better support you by building both business and personal wealth. Your financials are powerful guides — use them!
I hope more women will: Be mentors to other women in business. Having a robust network is key to success but we often focus on the number of people we know rather than the quality of relationships that we have. Seek out the women you admire and try to connect and start building relationships. When someone reaches out, make time to talk and meet. Building those mentor/mentee relationships benefits us all and helps everyone achieve success.
How can women better support each other?
Businesswomen face practical hurdles to building profitable businesses and we need to continue to seek out efficiencies in our personal and professional lives in order to thrive. That can be achieved by creating a purposeful network of female colleagues (like Macon Magazine's Women in Business community). That network can share hard business lessons with one another, pool resources to get needed professional development or make a commitment to attend a weekly yoga class together.
Looking back, I wish I had recognized: Most women have not been taught to think of themselves as entrepreneurs, and whether you are planning to start your own business or work as part of a large corporation, we would all benefit from pushing ourselves to get more comfortable with being innovative and proposing big solutions to the problems all around us. We also need to empower ourselves by learning best practices for managing our personal and business finances, and realize we have the right to make money and build wealth, just like our male counterparts.
In five years, we: Will be thrilled to share the success and progress of our 2022-2027 strategic plan. Our new strategic plan will launch this summer and it's our most aggressive and ambitious plan to date. In five years, we hope downtown Macon will be more inclusive, equitable and vibrant than ever before.