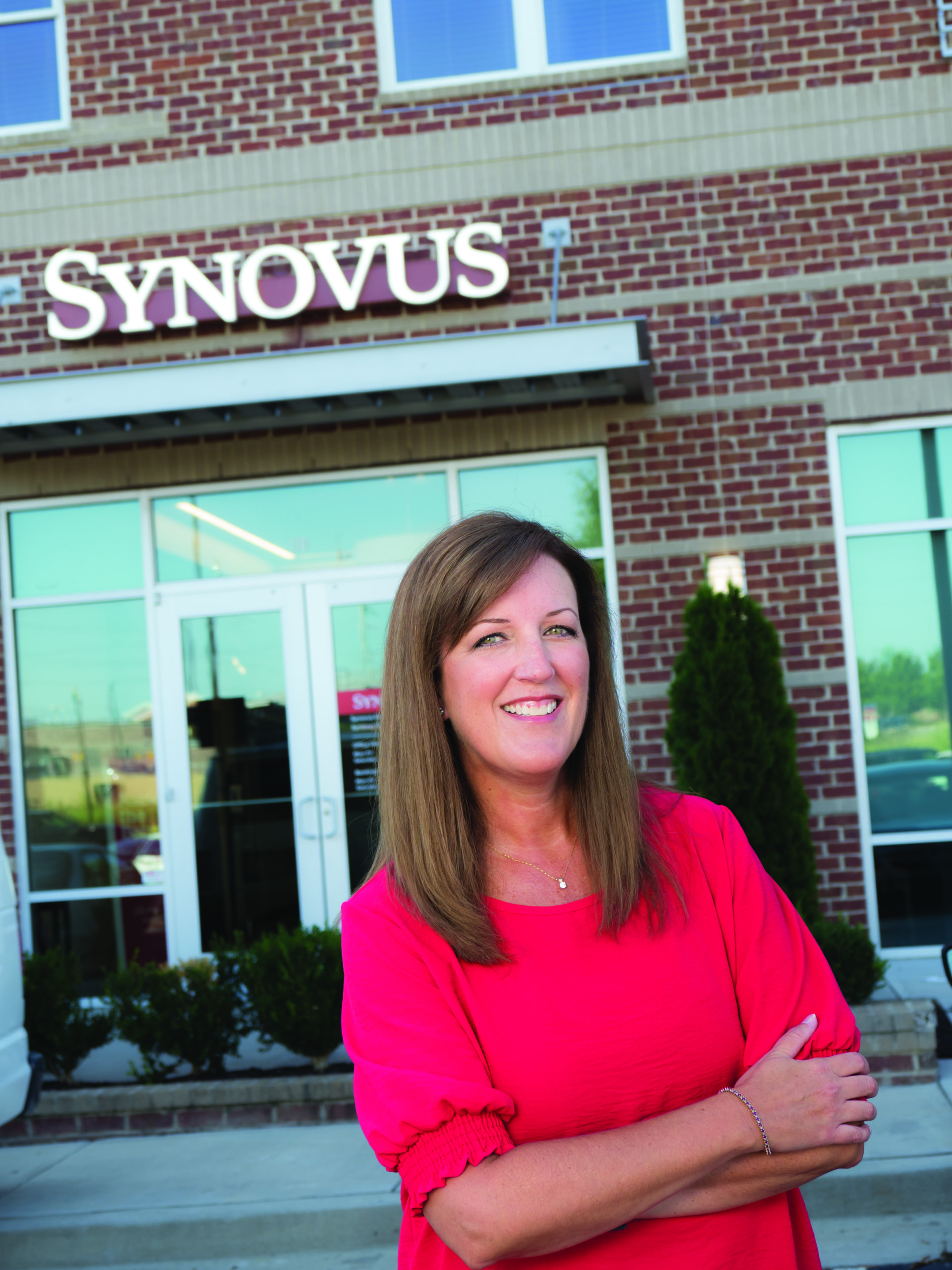 Business Spotlight 2020: Amy Fitzpatrick
A SPECIAL ADVERTISING SECTION FEATURING MIDDLE GEORGIA BUSINESS LEADERS AND WHAT INSPIRES THEM. PHOTOGRAPY BY JESSICA WHITLEY.
Synovus Bank
Senior Vice President, Commercial Banking
5429 Bowman Road, Suite 110
478-738-2359
amyfitzpatrick@synovus.com
Synovus Bank, Member FDIC
What is the mission of Synovus Bank?
We pledge to serve every customer with the highest levels of sincerity, fairness, courtesy, respect and gratitude, delivered with unparalleled responsiveness, expertise, efficiency and accuracy. We are in the business to create lasting relationships, and we will treat our customers like we want to be treated. We will offer the finest personal service and products delivered by caring team members who take 100 percent responsibility for meeting the needs of each customer.
How did Synovus take the lead during COVID-19?
I'm particularly very proud of Synovus Bank, and our Macon team, for how we processed the SBA Payroll Protection Program (PPP) loans. As part of the PPP Team, I saw firsthand how many of our teammates voluntarily worked lengthy shifts around the clock in order to help as many businesses secure funding as possible. At the beginning of July, we had provided PPP loans that directly supported the retention of 335,000 jobs across our footprint. Working in a community the size of Macon, I am also proud that about 85 percent of our loans were made to small businesses with fewer than 25 employees.
You might not know: Many people in Macon may see Synovus as a "new" bank in town. However, we have deep Georgia roots dating back to 1888 and am proud to say that we are still headquartered today in Columbus.
What sets your business apart?
Synovus Bank is a full-service financial services organization and our local team is most certainly what sets us apart. We have veteran experience and expertise all in the same office. Local relationships matter a great deal to us!
What is the most gratifying part of your job?
I absolutely admire the entrepreneurial spirit and passion of business owners! I love brainstorming ideas and it's an honor to be trusted to help their ideas come to life.
What's the most difficult part?
Finding a happy work-life balance is challenging. With technology at our fingertips, I personally have to set boundaries to achieve the right balance. Having had two active children in varying sports, my husband and I have always made certain they have at least one of us there to support them. Now having our oldest as a 2020 high school graduate, I'm very happy that our family placed such an importance on this when they were young!
What is the most common question you receive?
Right now, many businesses are preparing for their SBA PPP loan forgiveness. As the conduit of information, we are working diligently to ensure that our clients have the most current information and feel prepared for this next step.
Any advice for those seeking to get started in your field of business?
Regardless of the field of interest, I cannot underscore enough the importance of establishing a relationship with someone who is willing to be a mentor. From industry experience and advice to industry connections, the right mentor relationship can be invaluable to your career.
How do you define success?
Success to me is very simple. Have I helped someone achieve a goal for their personal life or business? If so, it's been a great day at the office.
What was the best business advice you ever received?
Surround yourself with good people and good things will happen. Anyone who knows our Macon Synovus Team will agree that this has been the key to our success.