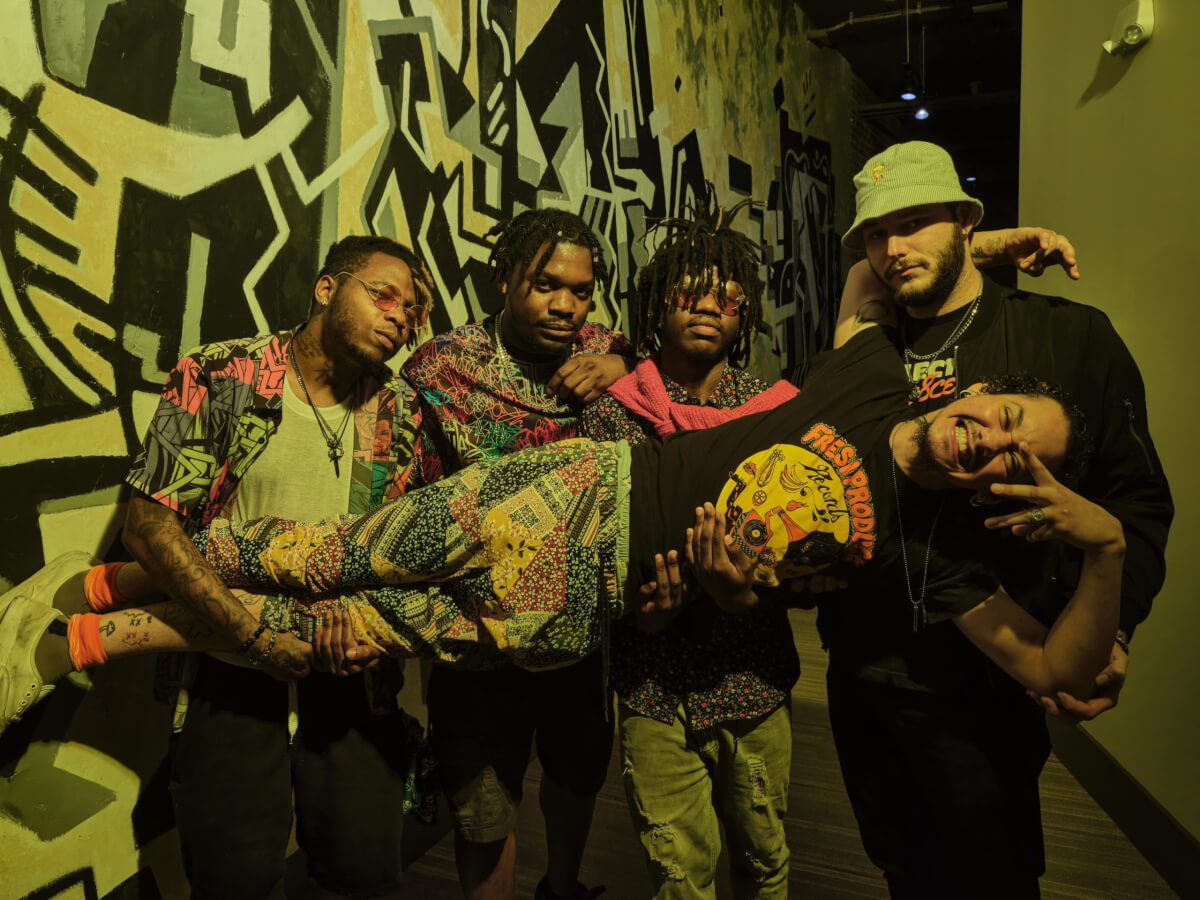 Collective Sp8ce: Creating art as a community
And a community where hip hop is a work of art
by Marla Horton
Photography by Matt Odom
Beautiful and aggravating—words you might use to describe a family member or friend, someone you believe in with fierce admiration, someone who knows how to get under your skin. These are also the words Collective Sp8ce, Macon's own hip-hop collective, used to describe what the creative process is like for them. Creating art, like creating community, is full of joy and frustration – but it is rewarding because of the challenge it presents.
CONNECTION AND COLLECTIVE
"It's a process of constant refining," the group said of writing music. "But you just keep working it over until you find what the song needs. That's what we try to do. Respect the music but deliver it with our own style and hopefully create something that connects with other people."
Connection has always been a motivation for the members of Collective Sp8ce: Caleb Melvin, G Monét, Sutter Kain, JC3, Charlie Zero, Mark Wingfield, Martaze Blackmon, Nate (also known as "Biscuit"), Tiffany "Sipp" Dumelod, and Chase Heinisch (also known as "KillAce"). They are the singers, rappers, producers and visual artists who make up Collective Sp8ce. The range of influences between them—Smino, Rage Against the Machine, Outkast, The Lumineers, Jack Johnson, Kid Cudi, Radiohead, Drake— energized their collaboration and inspired their innovation. Their goal, as their official bio states, "is to genre-blend…creating a whole new sound." But their connection goes deeper than the music they make.
A few of the original members first met in 2019 at Bearstock, Mercer's annual music festival. The connective nature of music laid their foundation from the start. They kept hanging out after the festival, meeting up occasionally at Grant's Lounge. Eventually, a music collaboration developed from their friendship. Now, that friendship has evolved into a family, who just happens to make music together.
Collectives, in the nature of making music, is where creative control is shared. Unlike a traditional band, music collectives allow flexibility in the roster, so members are often part of other music acts, in addition to being key contributors in the collective and the sound they produce.
"Being in a group is like any other relationship," said member Caleb Melvin. "Experiences in life and with one another take a toll and impact your feelings about each other and overall view of life. If one of us is down, we might all feel that . . . Regardless, we're there for each other."
The group collaborates regularly, getting together to practice several times a month at Melvin's house or in the rehearsal space found at the music incubator inside the historic Capricorn Studios (aka Mercer Music at Capricorn).
Hip hop collectives are not new to music scenes. In fact, as history shows, they can define them. From what Wu-Tang did for Staten Island and the 1990s East Coast rap scene to how the Dungeon Family catapulted hit after hip hop hit straight out of Atlanta, communities regenerate from the collection of talent.
"Stories like the one of Collective Sp8ce are exactly what we envisioned when investing in Mercer Music at Capricorn," said Lynn Murphey, Knight Foundation program director for Macon. "Music — especially that which grows from Macon — sets the stage for our community's vibrancy, energizes our creative economy and makes our city a great place to live, work and play."
EXPERIMENTATION AND PLAY
There is always an element of play in Collective Sp8ce's process, even when there is work to be done. In their first music video for their song "Doin Well," they are all just hanging out, sitting around the same living room where they usually "decompress, share ideas…play Twister and Duck, Duck, Goose," said Zero. The video is the epitome of community and having a good time with friends, while their music adds to a soundtrack of togetherness.
However beautiful and aggravating the process may be, the group found a way to make it work for them, releasing their debut album "Space Invaders" in January of 2021. It was an experiment in collaboration, the group's first attempt at making music together without sacrificing their individual sounds. "You rarely see this many insanely talented artists working together and helping each other without butting heads," Zero said, proud of what they have accomplished so far. "It only works because we are a family first."
The members of Collective Sp8ce came to Macon from different cities—Warner Robins, Atlanta, New Orleans—but Macon is the birthplace of their collaboration, the city where their music has found its stage. They have made the rounds in Macon's music scene, playing shows at The Society Garden, Grant's Lounge, The Hummingbird, Reboot and JBA.
After all, live performances elicit collaboration on an even larger scale. And the community of Collective Sp8ce continues to expand. Among them, you'll find Macon's music-hungry crowds, the people who show up and buy tickets, who bring their own excitement and energy, their own desire to connect with something bigger than themselves.
"Whenever we can perform in Macon, the show always feels more special," Zero said. "When the show feels like home, our energy is unmatched."
The group also had the opportunity to collaborate with Bob Lennon and African Americana at Grant's Lounge in October of 2021. "It was so dope to share a stage like that with artists like them," said Zero.
This expression of community within the music scene is what they hope to see more of in the city. It is why they started Collective Sp8ce and why they chose to collaborate instead of competing as individual artists. "The best collaborations come along after you make a real connection first… that show was really just the tip of the iceberg," said Zero.
Collective Sp8ce is just getting started. In a way, so is Macon's music scene. The city's rich music history is no secret, but a call for more collaboration within the community could set the stage for future riches yet to be seen. "There's a lot of incredible talent in our area, but not everybody is given the same opportunity," said Melvin. The group wants the future of Macon to be one in which "the underdogs and nobodys rise up."
The "8" in Collective Sp8ce is not a typo, but an infinity sign, a reminder that "music is infinite" – and a reminder "to have no boundaries while creating." Like music, the best communities are open to everyone. "Our music reflects the wild stories and unique perspectives we get from living in Macon," said Zero. "As for the world, I hope they learn to love the language we're speaking."