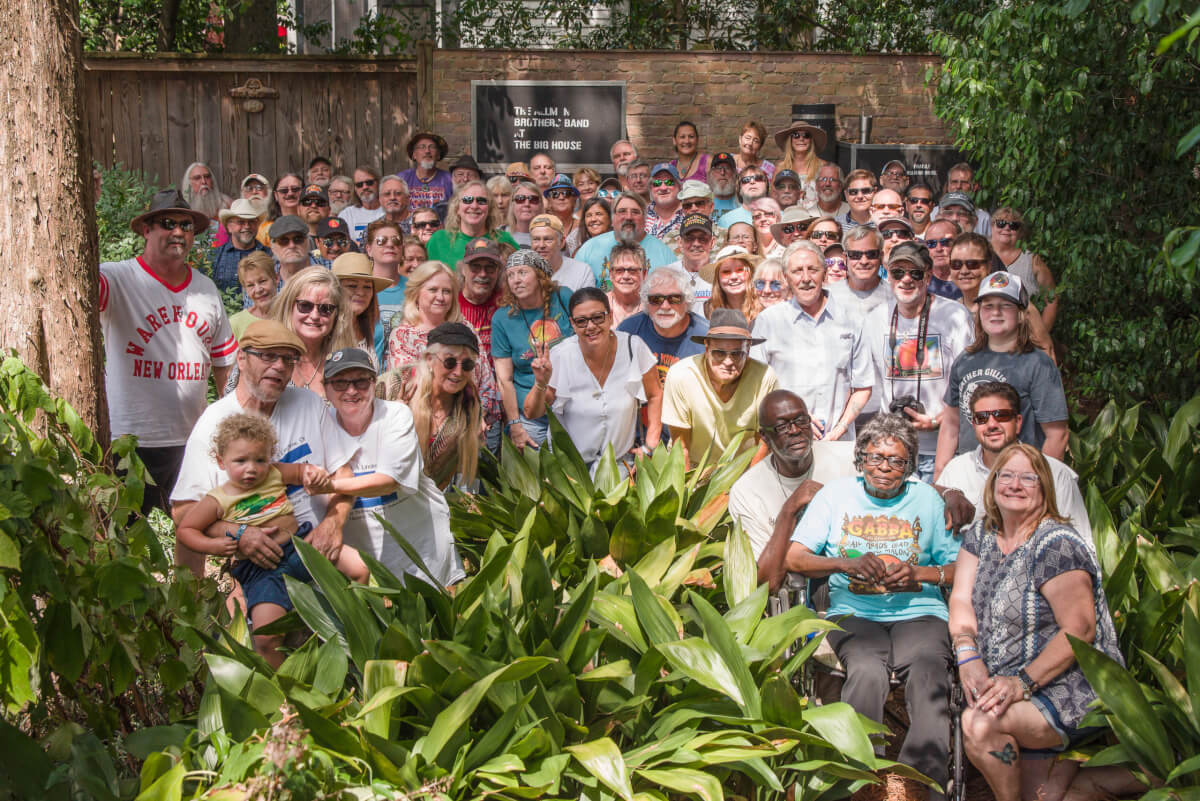 GABBA gives back
By Kristen Soles McCrackin
Photography by Neal Grillot, Dsto Moore, Matt Odom, Mark Vormittag and Jessica Whitley
"People can you feel it?
Love is everywhere." – "Revival" by the Allman Brothers Band, Idlewild South
If you want something done right, ask a tried-and-true Allman Brothers fan.
Surelle Pinkston says her favorite way to introduce new listeners to the Allman Brothers Band is to have them listen to "Idlewild South," the second studio album by the group. She laughed and said, "Crank it up in your headphones or car. This is the first album people that don't understand the hype should listen to."
Pinkston has been a member of the Georgia Allman Brothers Band Association (GABBA) since its inception in 1991 and serves as the current treasurer of the organization. Explaining how GABBA got started, she recalled, "Back then, there was a gathering of fans in Macon. They used to get together on the anniversary of Duane's [Allman] death, but we have gotten away from that, not wanting to put too much emphasis on that."
WHERE IT ALL BEGAN
Although the Association's original founder was from Chattanooga, Pinkston helped assemble a team from Macon, including support from the Macon-Bibb Convention and Visitors Bureau (now Visit Macon), to assist her efforts, formalize the meet-up and make it locally grown. After all, Macon, Georgia, is where it all began.
"In 1992, we had the first GABBAfest. Marty Willet had the sense to form a board. He had the know-how, and I had the dream," Pinkston added.
Today, GABBA's mission is to preserve, promote and protect the legacy of the Allman Brothers Band. With a roster of close to 500 members, they do this in a number of ways. They primarily raise funds through yearly and lifetime memberships and proceeds from their annual GABBAfest fundraiser.
MORE THAN A FAN CLUB
Laraine Potter, current GABBA president, described the charitable work they do. "Years ago, before there was a Big House Museum or a Georgia Music Hall of Fame, GABBA donated and worked toward getting both of those going. We have since started donating to youth music organizations. We have donated to the Otis Redding Foundation music camp and the Macon Youth Symphony. The Douglass Theater for a while had a youth jazz program, and we donated to that," she said. "We've also donated in the past to musicians who had health problems and didn't have insurance. So, we just try to do good."
Added to the list of doing-good GABBA beneficiaries: The Methodist Home for Children and Youth, Daybreak Day Resource Center and the Rose Hill Foundation. "We always have our ear out. We like doing new things, not just the same things," Pinkston added.
Take note of the round plaques marked "Historic Macon Music Registry" at various locations around town. This is a project launched by Charlie and Claire Cox after they were inspired by a trip to England where they kept seeing plaques to indicate where different artists had played, including Little Richard and Otis Redding.
"They said, 'Wait! Those are our people! We need to do this in Macon!'" Pinkston recalled. "So, they contacted Jessica Walden and Jamie Weatherford of Rock Candy Tours, who, in turn, contacted us. We formed a committee who researched and decided who to do the plaques for."
Some of the Allman Brothers locations identified for the plaques include the place where the "Fillmore East" album cover was photographed, Duane Allman's house on Bond Street, Dickey Betts's house on Corbin Avenue and Buffalo Evans's house on Rogers Avenue (where he officiated the wedding of Chuck and Rose Lane Leavell, as well as weddings of Gregg Allman, Jaimoe and Lamar Williams, Jr.). GABBA helped pay for the plaques and plans to install more as the Historic Macon Music Registry grows.
Working to meet their goal of historic preservation, GABBA has started an archive of reference materials at Washington Library. Potter would like the public to help further their efforts by contributing their own artifacts. She said GABBA wants a comprehensive collection of materials on the Allman Brothers and other musicians from Macon, like Otis Redding and Johnny Jenkins. The archive has expanded recently to include Capricorn artists as well. "We want this so that anytime someone wants to learn or catch up on local music in the future, it will be there," she said.
THE LIVE MUSIC EVENT & FANS REUNION
GABBA's premier event is their annual GABBAfest, self-described on their website as "Macon's good-time reunion of ABB fans from all over the world," promising live music, visits to the Big House (Allman Brothers Band Museum) and plenty of Macon hospitality.
When asked to talk about a "typical" GABBAfest event-goer, Potter laughed. "We have members young and old. We have the hippie type, all income types, all different backgrounds," she said. "You can't point to one person and say, 'that's a fan.' The music brings everyone together. They may be a CEO during the week and put on their tie-dye on the weekends."
This music festival is a three-day Allman Brothers revival event that has featured Allman band members like Dickey Betts, Jaimoe and Warren Haynes as well as related bands with Devon Allman, Berry Duane Oakley and Duane Betts. Others to grace the GABBA stage include Wet Willie, Cowboy, Les Dudek, Samantha Fish and young guitar impresario Brandon "Taz" Niederauer.
"Through the years, we've had an impressive lineup rivaling any other Georgia music festival," Pinkston remarked. GABBA members also get an opportunity to play at the annual Members' Jam, often with the festival's featured artists.
Scheduled for September 22-25, 2022, GABBAfest organizers are expecting an estimated 400-500 attendees in Macon for the weekend.
Steven Fulbright, Visit Macon's Vice President of Sales and Services, said that based on previous GABBAfest data, the event has a return on community investment – particularly on Macon's economy.
"People from outside the Macon area with disposable income come here and stay for a longer than average period of time and spend money on things like tourism and dining," he explained.
GABBAfest recently moved from the Douglass Theater to The Grand Opera House. The 2020 festival was cancelled due to COVID-19, and last year's restrictions made it difficult for travel, so the family reunion spirit at this year's event will be at an all-time high.
With pride and admiration in her voice, Pinkston said, "The love of the music brings people together. It's all about the music. It warms my heart to see all these people come from all over the world to celebrate with us. We are on Holy Ground here!"
To learn more about and get engaged with GABBA, you can visit their website at GABBAfest.org and fill out a membership form. GABBAfest is open to the public, and tickets and weekend ticket packages can be purchased online.
GABBAFest 2022 Schedule
Sept. 22 – 25, 2022
Friday, Sept. 23 at the Grand Opera House: The Danielle Nicole Band; Heather Gillis with Wolf Twins opens.
Saturday, Sept. 24 at the Big House Allman Brothers Band Museum: The GABBA Members Jam, hosted by Restless Natives.
Saturday, Sept. 24 at the Grand Opera House: Brother & Sister featuring Vaylor and Melody Trucks; Parts & Labor opens.
Sunday, Sept. 25 at the Big House Allman Brothers Band Museum: The Sunday Hangover featuring Restless Natives and Dave Cole's All Star Band.
All Things Allman
Visit the Big House
The Allman Brothers Band Museum at the Big House, located at its original historic address of 2321 Vineville Avenue, is where members of the Allman Brothers Band, their roadies, friends and families lived from 1970 until 1973. It was nicknamed "the Big House" because Linda Oakley, Berry Oakley's wife, reportedly said it was the biggest house she'd ever seen.
According to the museum's Executive Director Richard Brent, the Big House is the world's largest collection of Allman Brothers Band memorabilia.
"What fans are going to see when they come is a well-curated step back in time," Brent said. "There is some great memorabilia, and once you get upstairs, the bedrooms are decorated about 85 percent original. Duane's room and the Oakley suite have the beds, clothes, instruments, road cases, song lyrics, reel to reels, cassette tapes and eight tracks." Brent said it's always fun explaining the latter to young people because they've never seen that technology.
A lot of big hits for the band were written at the Big House, including "Ramblin' Man," "Blue Sky," "Hot 'Lanta," "Midnight Rider" and "Please Call Home." Brent, a big Allman Brothers Band fan in his own right, shared, "The House has a vibe all its own. It truly is a step back in time. It kind of transports you and puts you in a different mindset."
If you'd like to visit the Big House Museum, the hours of operation are Thursday through Saturday 11 a.m. to 6 p.m. and Sunday 11 a.m. to 4 p.m. Tickets are $20. Students, seniors and military are $15.
Don't forget the gift shop. You can find groovy merchandise at the House or online by visiting thebighousemuseum.com.
Rose Hill Cemetery
When Rose Hill Cemetery was established in 1840, no one could predict it would become the final resting place of a legendary southern rock band, the first cemetery in America to have an entire band laid to rest at the same plot.
That's the plan for one of the most visited grave sites in music history – making it a top must-see in Macon – where Duane Allman and Berry Oakley are interred side-by-side, their fatal motorcycle crashes taking their young lives just over a year apart.
Decades later, in 2017, Gregg Allman would be buried here, too. Drummer Butch Truck's ashes would follow. In this sacred spot, two plots remain, so when the day comes, Jai Johanny Johanson, aka Jaimoe, and Dickey Betts can join the final resting place of their brotherhood.
Rose Hill Cemetery is home to several attractions in Allman Brothers Band lore, which draw a multitude of tourists year after year seeking hallowed ground. The band shot the back cover of their first album behind the Bond Monument. Elizabeth Reed's grave is there, as is Little Martha.
Steven Fulbright, Visit Macon's Vice President of Sales and Services, discusses the draw of Rose Hill for tourists – and perhaps the Allman Brothers – all those years ago. "Simri Rose designed Rose Hill to be a cemetery and a park. This was common during the time it was built. The mortuary monuments and marble out there are absolutely stunning, the sculptures are amazing, but also the horticulture, the number of trees and plants and shrubs are absolutely beautiful the way that they're dispersed throughout the cemetery. Also, the way the cemetery is terraced overlooking the river; it's a beautiful view. It's very inspirational, so it's a great place for people to go to be inspired, but also to reflect on lost loved ones."
Visit Macon and the Historic Macon Foundation are collaborating to implement new directional signage on the grounds, according to Fulbright, to aid visitors in finding their way around the fifty-acre landscape.
You can visit historic Rose Hill Cemetery (1071 Riverside Drive) seven days a week, dawn until dusk.