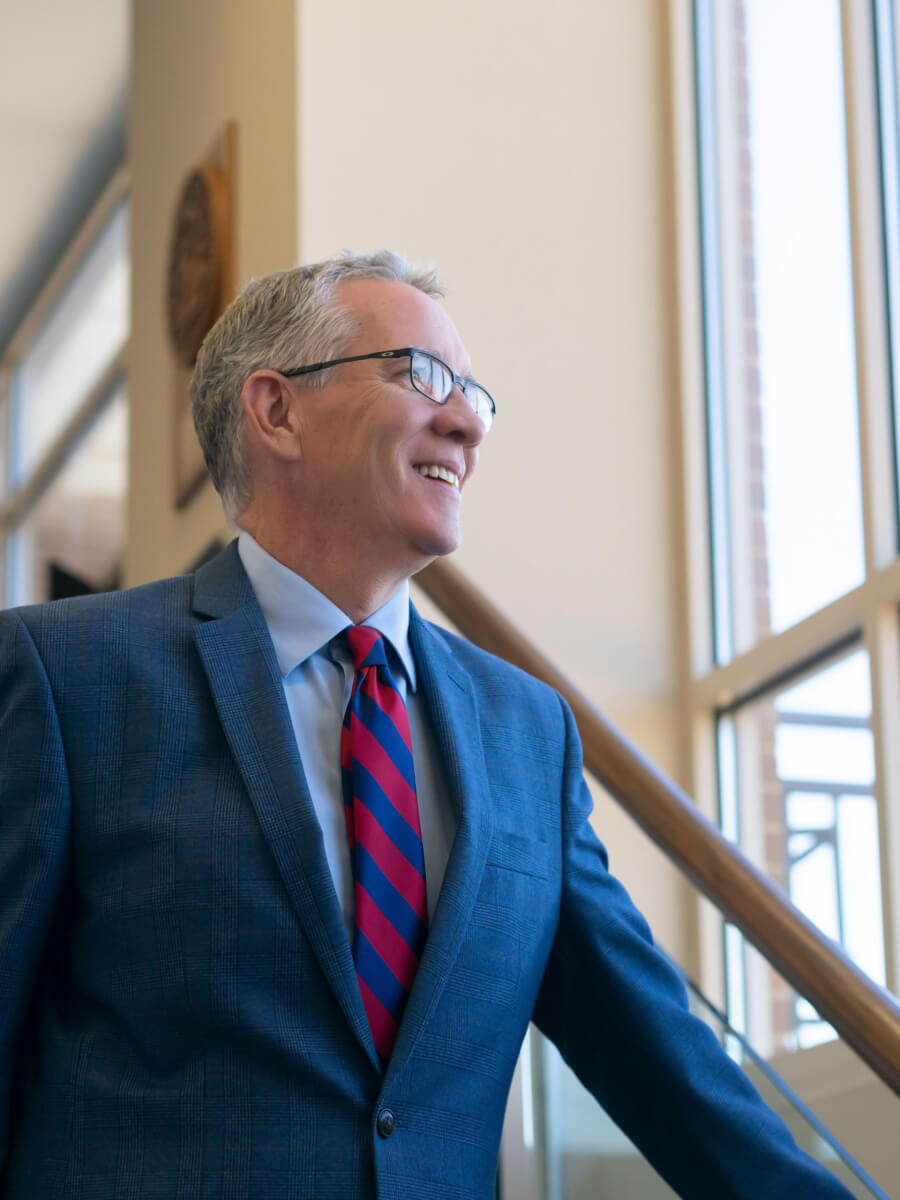 Live Well 2022: Jeff Scruggs
A SPECIAL ADVERTISING SECTION featuring Middle Georgia businesses that will help you live your best life in 2022. PHOTO BY JESSICA WHITLEY.
Jeff Scruggs
Executive Vice President, Central Georgia Technical College
80 Cohen Walker Drive, Warner Robins
478-218-3333
jscruggs@centralgatech.edu
centralgatech.edu
What is your mission?
Central Georgia Technical College, a unit of the Technical College System of Georgia (TCSG), offers credit instruction, adult education and customized business and industry training through traditional and distance education delivery designed to promote community and workforce development.
How has that mission changed because of COVID-19?
COVID-19 has not changed our mission. In fact, to keep education going when the rest of the world stopped, we adapted, continuing our efforts to bring quality education and customer service experiences to our students virtually. Fortunately, we already had a robust virtual program, so most of our outstanding faculty were already trained and ready to quickly migrate all courses to virtual. The faculty commitment to student learning was and remains remarkable. In fact, our quick response to COVID factored into our being recently named by Newsweek as one of the best online learning colleges across the nation for 2022. However, we do realize the importance of offering our courses in the traditional classroom setting. So, as COVID restrictions have eased, we've managed a robust offering of both on-campus and virtual courses. Many of our programs focus on clinical experiences and hands-on learning opportunities so that students can experience real-world work situations before entering the workforce. Even during the pandemic, we found ways to make sure our students did not miss this experience.
How do you serve the Community inclusively?
Everything we do is focused on accessibility and affordability for all Georgians. Our programs are tailored to meet our students where they are, whether that's continuing their education, adult education, prison re-entry programs or even business and industry training for economic development. We are an open-access institution. This means we essentially have something for everyone.
How does your business improve lives?
In 2021, 99 percent of our graduates were either employed, continued their education, or entered military service. CGTC offers a pathway to students beginning at any point on their educational path to entering essential careers in high-demand industries or transferring to senior institutions, particularly those in Central Georgia who partner with our students and college. With the education opportunities we offer, our students are prepared for a lifelong education and/or career that will help them to proper educationally, socially and economically. Everyone wants the opportunity to learn, grow, succeed and support their families. That is what we are focused on.
What are you most excited about for 2022?
Student housing is coming to our Warner Robins campus, which will allow students to live and learn all in one place. Student housing is very unique for two-year colleges and we are excited to offer a modern, fully furnished living experience for our students.
What challenges do you face, and how do you overcome them?
A challenge we face as a technical college is conveying our breadth and flexibility as well as the value we offer. At CGTC, we know there is not a one-size-fits all approach to education. We are able to work past this obstacle by meeting our students where they are and showing them the opportunities that exist for them with the right level of education. Our students can finish their two-year general education (core) studies to prepare for transfer and/or enter a high-demand career field in two years or less. Some of the things that make CGTC a great first choice is the value for the money, flexible schedules and learning options, a worldwide reach, small class sizes and the opportunity to start learning in high school.
What is a myth that you wish people would get over? And, what is the antidote?
A myth I would like to dispel is that the four-year degree is the only path to success. While we want everyone who wants a four-year degree to earn one, a technical education, whether in a high-demand health field or industry field, is a professionally and economically rewarding path. Whether a student is intending to learn beyond the associate transfer-preparatory degree or move into high paying careers in essential industries like aviation maintenance, health sciences, paralegal, biotechnology, manufacturing technologies and engineering technologies, we are prepared to get them to their desired destination. The best way to communicate our message is by speaking directly to prospective students, parents, high school counselors and teachers about CGTC and helping to make sure people fully understand all that the college has to offer. Our graduates transfer to one of our outstanding senior partners as well as enter the workforce quickly with little to no debt and typically make a great living wage. Our graduates definitely measure up!
What are you most proud of about your business?
I am most proud of our faculty and staff commitment to helping anyone who wants to learn and grow regardless of their personal barriers, economic or educational status, or location. We are nationally recognized in a number of areas for our commitment to student success and our outcomes, and we are committed to going where the learners are and helping all reach their goals.
How do you define "living well?"
We are all given one body, one mind and one soul, and life is best lived when we take care of each of those three things that make us human. We have to stay connected to others, keep learning, keep growing, keep moving and keep loving.
When you're not working, how do you relax and spend your time?
When I'm not working, my time is dedicated to my family. I have the most remarkable wife and semi-grown kids, as well as a fantastic, big, fun and loving family. The greatest gift we have on this side of eternity is family. I treasure every minute with these remarkable folks.
Who are your inspirations for a life well lived?
There are so many, but I have to mention my grandmother, mother, aunt and dad, who is technically my stepfather. My grandmother taught herself how to read and write, but she taught me the value of education and perseverance against all odds. My mother, who is one of the most self-sacrificial persons I've ever known, made it all work being a widow and mother at a very young age. My very special aunt — my "other mother" — despite some great personal losses, is perhaps the most generous and loving person I know. And finally, my dad who married a young widow with two sons and loved my brother and me as his very own.
What needs to happen to help our community live happier and healthier lives?
We must work together to promote stronger homes and families. Families don't always look the same. However, if we can work together toward that growth, we are going to see everything else grow – health, economics, personal happiness and success.
What are you most excited about right now in our community?
Right now, I am most excited about the amount of economic development coming to the area. New businesses and career paths are opening up every day right here in Central Georgia and it's exciting to watch it all unfold.
You might be surprised to know: About CGTCs work with USAID/State Department to establish the first associate degree program in Afghanistan. As their nation sought to develop opportunities for all learners, particularly females, some of our faculty and traveled to Azerbaijan and to Kabul to collaborate and lead their university faculty in understanding the technical/community college technical pedagogy and content, particularly in the Information Technology field. There were eight female graduates in the first cohort!