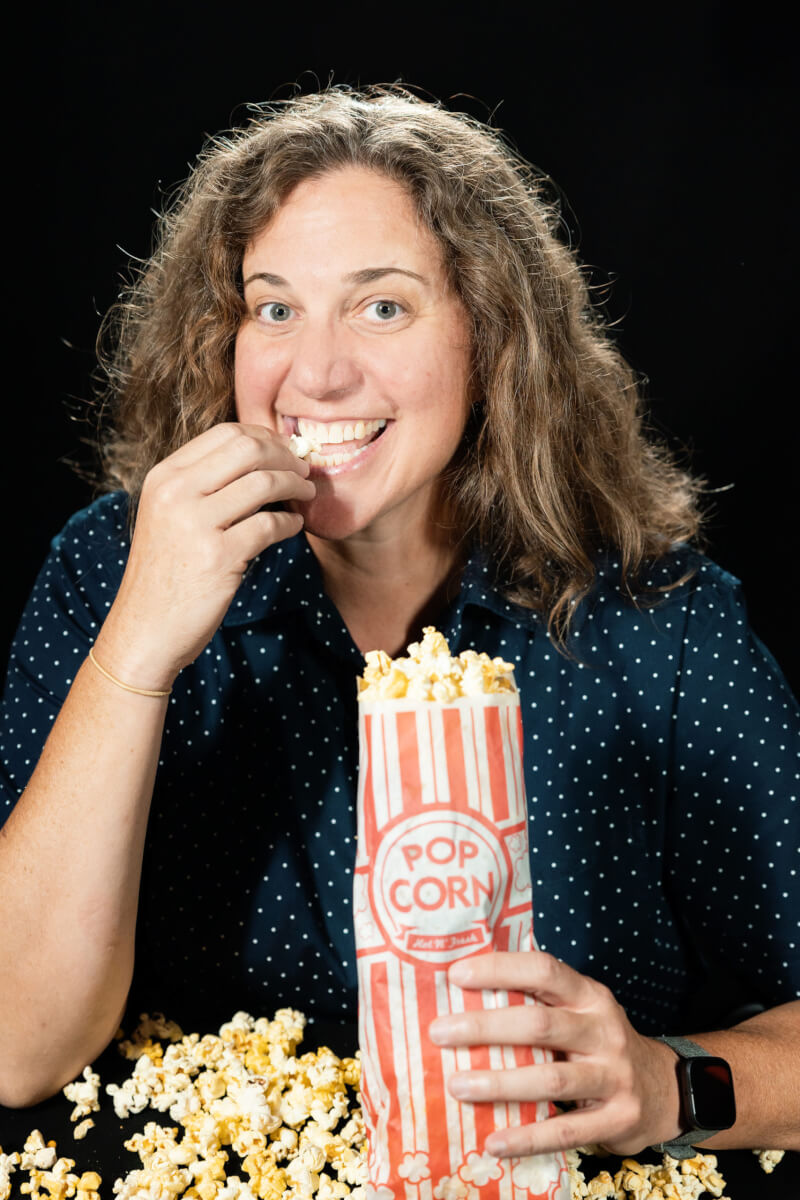 Tabitha's Top 10 in the 478
By Tabitha Lynne Walker
Photography by Leah Yetter

Tabitha Walker is a proud military brat who was born in California but grew up in Texas. After obtaining a BFA from Sam Houston State University, she packed her car and drove to Georgia, sight unseen, to go to film school. Walker moved to Macon after completing a Master of Fine Arts degree from the Savannah College of Art & Design. When moving to Central Georgia, Walker's plan was simple: Stay in Macon for one year, save money working for a large corporation and leave Georgia as fast as she could. Next year, Walker will be celebrating 20 years of being a Macon resident.
Walker is currently the sole owner of Big Hair Productions, an independent video production company based in Macon. With close to 25 years' experience in the video/film industry, Walker has had the opportunity to work on a variety of local, regional, and national award-winning projects across the United States as well as the United Kingdom, Argentina, and Vietnam. Her experience in the industry includes working as a producer, writer, director, editor, and location manager on numerous independent films, documentaries, commercials, corporate videos, music videos, live television specials, podcasts, and multi-platform branding campaigns.
In 2005, Walker, local developer Tony Long, and Mercer professor Craig Coleman founded the Macon Film Festival as an extension of the then newly renovated Capitol Theatre. Alongside a dedicated group of community leaders and volunteers, Walker helped to grow the festival to what it is today. She eventually transitioned to the role of programmer managing the festival's film selection process and overseeing festival logistics. 
Tabitha's Top 10
Macon Film Festival: This year the film festival will be celebrating 17 years of bringing independent film and filmmakers to downtown Macon. The festival will feature close to 90 films screening in multiple venues throughout Downtown Macon, as well as immersive fulldome content at the Museum of Arts & Sciences. The festival offers a little something for everyone with narrative films, documentaries, music films, LGBTQ selections, student shorts and more. Each festival day ends with a special screening of films to give audiences a sneak peek of yet-to-be-released titles. Tickets start as low as $10, and go up to VIP All Access passes, which allow festival goers to experience everything the festival has to offer. An online festival schedule and a link to purchase tickets is available at maconfilmfestival.com.
The Grand Opera House Movie Series: A season of classic films on the big (really big) screen at The Grand? For only $5? Yes, please. The team at the Grand does an amazing job of programming the series with everything from family friendly films to cult classics. It's an inexpensive night out and a great way to watch some of your favorite films again in a historic setting. Be sure to stop by the soundboard and give my friend Bob a high five for making the movie sound so dang sweet. The 2022-2023 series begins with The Color Purple (1985) on September 16 and tickets are available at thegrandmacon.com
Douglass Theatre: Our festival filmmakers love screening films at the Douglass Theatre. It's always fun to watch their jaws drop when I overhear locals sharing the venue's history. The fact that they get to have their film screen on the stage where Otis Redding, James Brown, Ma Rainey, and more performed always gets a big reaction. The Douglass is such a special place on so many levels, but for watching a movie during the film festival or one of their year-round movie events, you just can't go wrong. It's the perfect size for an indie screening and is walkable to the restaurants and shops downtown for a post-film treat.
Museum of Arts & Sciences: Our festival friends at MAS have taken the traditional planetarium experience to the next level with their immersive fulldome screenings. Utilizing their state-of-the-art projection system, MAS is bringing one of a kind experimental fulldome films from literally all around the world right here to Macon. Whether it's during the film festival or one of their special evening showcases, you have to experience it. Bonus points if you can convince Paul in the planetarium to let you use one of the museum's oversized pillows for a true surround experience.
Outdoor Movie Screenings: Go to an outdoor movie. Trust me; just go. We're lucky to live in a community where many organizations host outdoor movie screenings regularly in the fall and spring. Watching a movie under the stars with your favorite people, eating movie snacks and meeting folks who love movies as much as you do is just one of the most magical things. During a recent festival outdoor screening, a family told me that they drove well over an hour to attend our outdoor film series and just couldn't believe how lucky we were in Macon to have such amazing backdrops for fun movie experiences. I couldn't agree more.
Art for Thought – Film Series: This fall the Macon Film Festival is partnering with the Macon Arts Alliance to offer a series of art-focused documentary screenings at Mill Hill Community Arts Center. This series will feature films by independent filmmakers from across the country who profile artists and communities using creative expression as a means to inspire conversation. More information about the series coming soon!
Luther Williams Field: One Sunday afternoon in 2012, I found myself standing in the outfield of Luther Williams Field with a film scout team consisting of a group of producers, art directors and Oscar-winning Director Brian Helgeland. Then-Mayor Reichert, my fellow film commissioners, and I had been called to meet with the group to show them around the park scouting for a movie location. At the end of the scout, Helgeland turned to us and asked if we had anything that could double as a train station. We all smiled, put them in a van and drove to the Terminal Station. Then he asked if we had a downtown area that could double as Brooklyn in the late 40s. Cut to a driving tour of our beautiful historic downtown district. Then he asked about palm trees for a scene set in Florida. I'll never forget Mayor Reichert yelling "High Street!" as we put them back in the van. The movie ended up being 42, featuring acclaimed actor Chadwick Boseman playing sports legend Jackie Robinson. Give 42 a watch and see how many times you can find Macon peppered throughout the film. Then go to experience a Macon Bacon game and tip your hat to a beautiful space that helped to further cement Macon as a filmmaking destination throughout the Southeast. I'd be remiss if I also didn't mention the 70s classic The Bingo Long Traveling All-Stars & Motor Kings was also filmed at the field and featured legendary actors Richard Pryor, Billy Dee Williams, and James Earl Jones.
Festival Workshops: This year the film festival will offer three in-person film industry workshops at Visit Macon as well as one virtual workshop. The workshops are free for filmmakers and film lovers and will feature discussions around the art of acting for film/television, scriptwriting, directing and location scouting. Each workshop will be led by industry professionals sharing their experiences working in the film world. Panelists include Margaret South (Beaches, Boys on the Side), Andrea "Andi" Behring (Dynasty, Tom Swift), William K. Ellis (Queens, Rectify), Michael O'Leary (Guiding Light, Law and Order) and Macon's own Crystle Robinson (The Gilded Age, All American). Additional information about this year's workshops can be found on the festival's online schedule via maconfilmfestival.com.
Macon Film Guild: The film guild is another amazing nonprofit organization that offers local film lovers access to independent films that aren't usually available in our area. Monthly screenings are held the second Sunday of each month at the Douglass Theatre and their quarterly Tuesday evening documentary series are also not-to-miss screening events. I can't encourage everyone to support this organization of true film lovers enough. Become a member of the guild!
The Macon Audience: If you're an independent filmmaker, Macon is a total gem. People around here love indie films. I've been lucky enough to travel and experience many film festivals around the country, and I can honestly say I've never seen a community welcome up-and-coming filmmakers the way Macon's audience so genuinely does. From asking thought-provoking questions during Q&As, to opening up their homes, to walking out of a restaurant and leaving their dinners behind to engage with a filmmaker about their movie, Macon's treatment of those who make the trip to our city to showcase their work is incredible. Hats off to all of you who go above and beyond to continue to help further brand our city as a filmmaker-friendly environment.