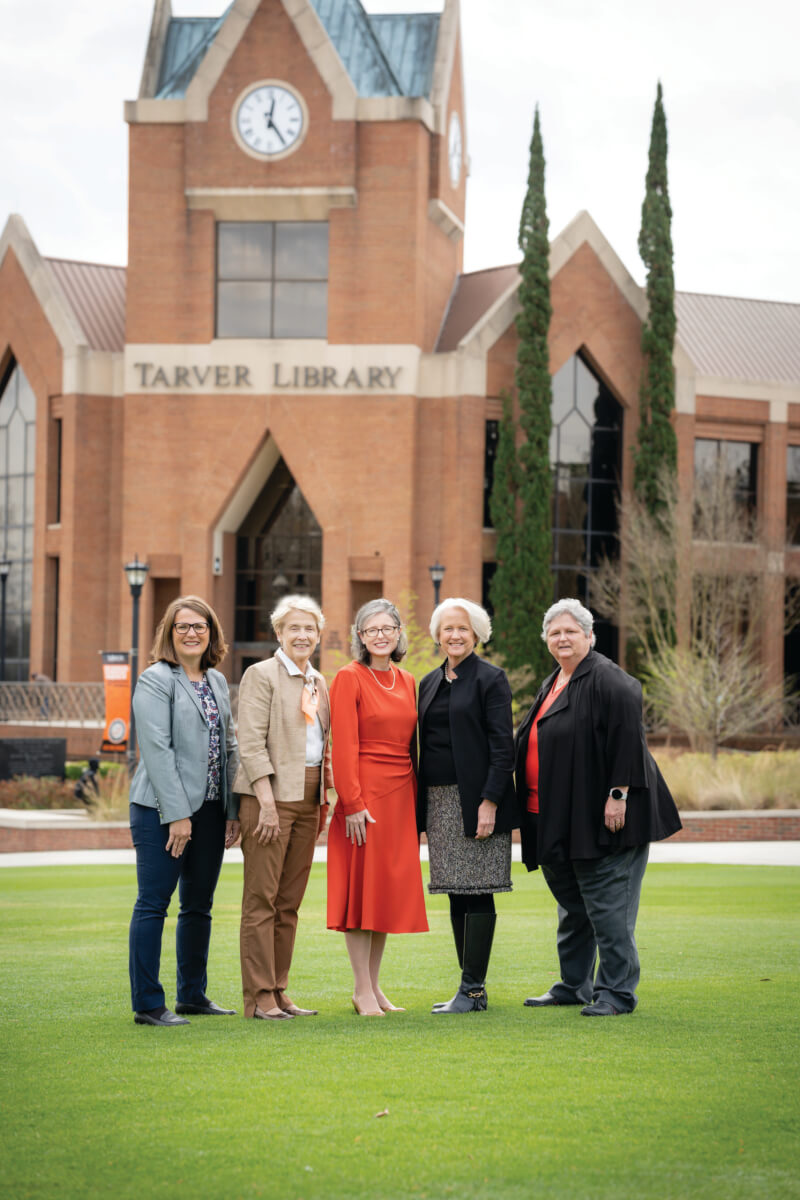 Women in Business 2022: Mercer University Deans
A SPECIAL ADVERTISING SECTION CHAMPIONING OUR LOCAL WOMEN IN BUSINESS. PHOTOGRAPHY BY JESSICA WHITLEY AND MARIN GUTA.
Macon | Atlanta | Savannah | Columbus | 1-800-MERCER-U | mercer.edu
Macon:
JULIE PETHERBRIDGE, PH.D., CPA, DEAN, SCHOOL OF BUSINESS; JEAN R. SUMNER, M.D., F.A.C.P., DEAN, SCHOOL OF MEDICINE; KAREN J. SNEDDON, J.D., INTERIM DEAN, SCHOOL OF LAW; ANITA GUSTAFSON, PH.D., DEAN, COLLEGE OF LIBERAL ARTS AND SCIENCES; LAURA LACKEY, PH.D., P.E., BCEE, DEAN, SCHOOL OF ENGINEERING, ON MERCER'S MACON CAMPUS
What is your mission?
The mission of Mercer University is to teach, to learn, to discover, to inspire, to empower, and to serve.
How do you define success?
When you can change a life for the better. – Dr. Julie Petherbridge
How do you define success?
To me, success is defined as making meaningful contributions. I joined the Mercer faculty in 2006. During my time at Mercer, I've become a Professor of Law, served as Associate Dean for Faculty Research and Development, and become Interim Dean. With each of these roles, I've made the opportunity to help students become problem solvers and opportunity creators. – Dean Karen Sneddon
How do you define success?
Working at something you love — at what you believe to be your calling. – Dr. Anita Gustafson
How do you define success?
Making a real difference. – Dr. Jean Sumner
How do you define success?
By facilitating the success of those around you, being a positive influence and a willing mentor. – Dr. Laura Lackey
You might be surprised to know:
I currently practice as a CPA and have served clients since 1993. – Dr. Julie Petherbridge
You might be surprised to know:
Mercer University School of Law is the oldest accredited law school in the State of Georgia. – Dean Karen Sneddon
You might be surprised to know:
Mercer's School of Medicine is a national leader in percentage of our graduates who serve underserved populations and the percentage of our graduates who practice in their home state. – Dr. Jean Sumner
What lessons did you learn from the COVID-19 pandemic?
That you need to be adaptable and innovative in all that you do in order to grow and prosper. Students can adapt and persevere if they are properly supported. – Dr. Julie Petherbridge
What lessons did you learn from the COVID-19 pandemic?
I realized the importance of empathy and resilience during the pandemic. In the law school community, students, alumni, staff and faculty faced a number of challenges and rose to the occasion. – Dean Karen Sneddon
What lessons did you learn from the COVID-19 pandemic?
So many students have never experienced college without COVID-19 being at the front and center. It has added a lot of stress to so many students' lives, so faculty have to be sensitive to students as they navigate college and COVID-19. – Dr. Anita Gustafson
What lessons did you learn from the COVID-19 pandemic?
Reinforced our belief that quality primary care is desperately needed in rural areas of our state. – Dr. Jean Sumner
What is the most gratifying part of your job?
Investing in student's lives and watching them find their career paths. – Dr. Julie Petherbridge
What is the most gratifying part of your job?
Being able to help Mercer law students become Mercer lawyers is one of the most rewarding parts of my professional career. Lawyers are problem solvers, opportunity creators, and agents of change who make valuable contributions to society. During the rigorous three years of the program of legal education, law students complete a number of courses. With every class and extracurricular activity, law students gather the knowledge, skills, and values that allow them to make a difference in the world and in their communities. – Dean Karen Sneddon
What is the most gratifying part of your job?
Seeing students thrive here at Mercer and helping them put together the building blocks for the next stage of their lives. About half of our students in the College of Liberal Arts and Sciences go directly into graduate or professional schools, and about half enter the workforce after graduation. We believe that the values and the skills they take with them from Mercer will prepare them to lead lives of significance and service. – Dr. Anita Gustafson
What is the most gratifying part of your job?
Bringing together academics and communities to provide quality health care to those most in need. Watching students achieve their goals of becoming scientists, health care professionals and physicians. – Dr. Jean Sumner
What has been the most challenging part of being a woman in leadership?
Balancing multiple roles. – Dr. Jean Sumner
What has been the most challenging part of being a woman in leadership?
Earning respect in a male-dominated field. I have been patronized, criticized for speaking my mind and called unkind names when assertive. – Dr. Laura Lackey
I admire women who:
Can negotiate well. – Dr. Julie Petherbridge
I admire women who:
Look beyond what currently is to consider what could be (and even what should be).
– Dean Karen Sneddon
I admire women who:
Rise to leadership through collaboration and collegiality. – Dr. Anita Gustafson
I admire women who:
Want to make a difference, care deeply about what they do and do it well. – Dr. Jean Sumner
I admire women who:
Encourage change, think critically and seek responsibility. – Dr. Laura Lackey
What are you most excited about right now in our community?
Seeing others wanting to serve and improve our community by investing their time and money. – Dr. Julie Petherbridge
What are you most excited about right now in our community?
The way that Mercer has partnered with Macon to help create a thriving community. – Dr. Anita Gustafson
What are you most excited about right now in our community?
The potential to become a leading community for health care in Georgia. – Dr. Jean Sumner
Why is Central Georgia a good place to do business?
It is the hub for all of South Georgia. – Dr. Julie Petherbridge
Why is Central Georgia a good place to do business?
Access, people who care about each other and long-term relationships. – Dr. Jean Sumner
What was the best business advice you ever received?
Do not be afraid to ask for what you need and share what you aspire to do. – Dr. Julie Petherbridge
What was the best business advice you ever received?
Don't discount your own value. – Dean Karen Sneddon
What was the best business advice you ever received?
Whatever leadership position you hold, be yourself. Make decisions based upon your own internal compass. – Dr. Anita Gustafson
What was the best business advice you ever received?
Work hard, be humble, be kind and believe you can make a difference. – Dr. Jean Sumner
What was the best business advice you ever received?
Do what you love! – Dr. Laura Lackey
Your advice for women wanting to start their own business?
Seek advice and run your ideas by as many people as you can and listen to their feedback. Do not be afraid to pivot if necessary and develop a full business plan before you launch your business. Take advantage of local incubators, workshops and webinars. – Dr. Julie Petherbridge
Your advice for women wanting to start their own business?
Do something that makes a difference, that you feel passionate about and work hard.
– Dr. Jean Sumner
I hope more women will:
Find the confidence to excel in whatever they want, and do not allow being the only female in the room to impact them. – Dr. Julie Petherbridge
I hope more women will:
Seek leadership opportunities. – Dean Karen Sneddon
I hope more women will:
Be willing to take on leadership roles. – Dr. Anita Gustafson
I hope more women will:
Consider becoming physicians in rural areas of our state. – Dr. Jean Sumner
How can women better support each other?
Take time to invest in themselves so they can take the time to support each other. Many times, as females, we juggle work and family obligations and will feel guilty taking time for ourselves. – Dr. Julie Petherbridge
How can women better support each other?
I have found that professional women are very good at mutually supporting each other. It's always helpful to have someone you can turn to for advice and feedback. – Dr. Anita Gustafson
How can women better support each other?
Trusted mentorship. Show up to support colleagues. – Dr. Jean Sumner
How can men better support women leaders?
Allow them to lead, and listen to their ideas. – Dr. Julie Petherbridge
How can men better support women leaders?
Recognize talent. – Dr. Jean Sumner
Looking back, I wish I had known:
That it is ok to say "no." – Dr. Julie Petherbridge
In five years, I:
Hope to see the continued growth of women business owners and women moving in executive management. – Dr. Julie Petherbridge