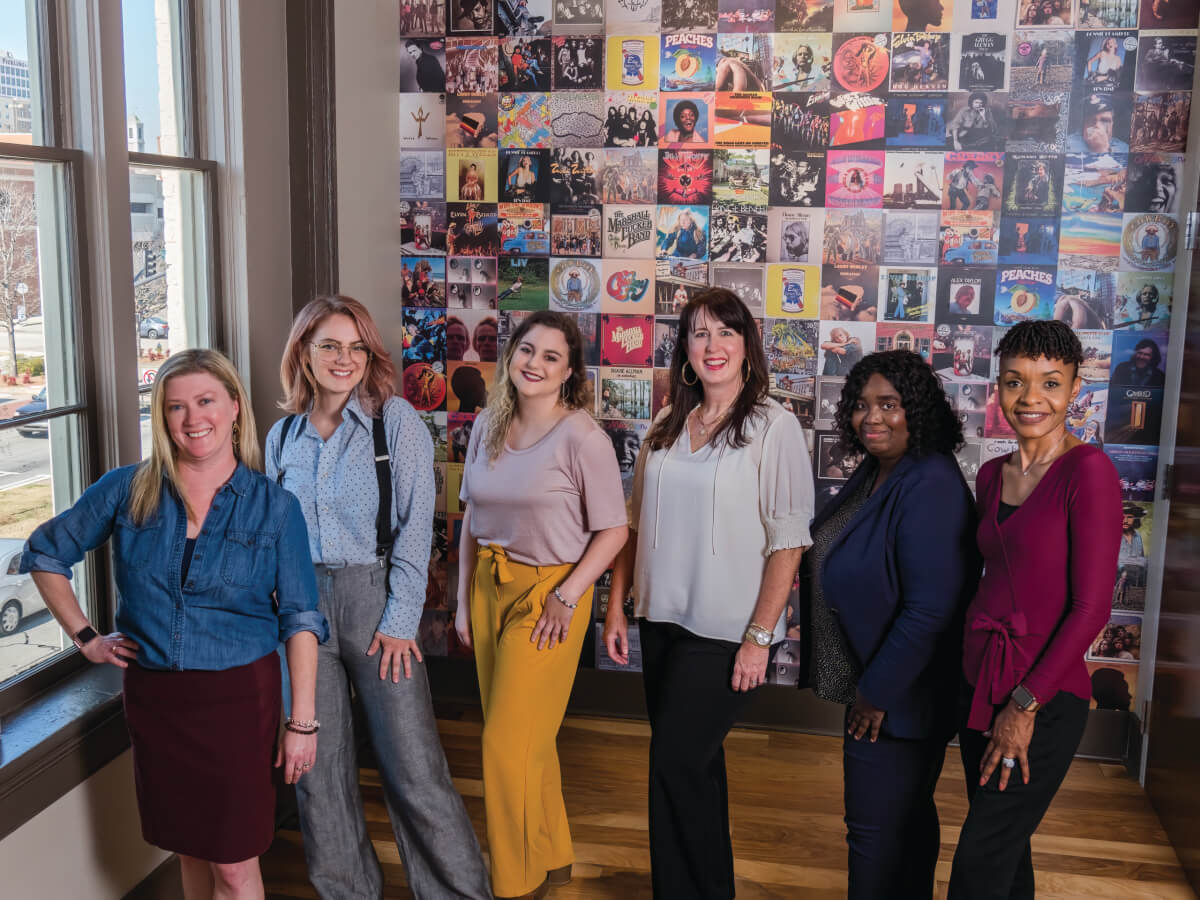 Women in Business 2022: Visit Macon
A SPECIAL ADVERTISING SECTION CHAMPIONING OUR LOCAL WOMEN IN BUSINESS. PHOTOGRAPY BY JESSICA WHITLEY.
BACK ROW: HALEY GARRETT, WEB MEDIA MANAGER; IRISH HUBBARD, OFFICE MANAGER & EXECUTIVE ASSISTANT; ANN STARLEY, SPORTS DEVELOPMENT MANAGER; AND TRISH WHITLEY, DIRECTOR OF SALES. FRONT ROW: KIMBERLY CHAMBLISS; DIRECTOR OF VISITOR SERVICES; AND HANNAH HARTMAN; MARKETING MANAGER. NOT PICTURED: VALERIE BRADLEY, VICE PRESIDENT OF MARKETING; AND KRISTEN GRISSOM, CONVENTION SALES MANAGER.
Visit Macon
450 Martin Luther King Jr Blvd., Macon
478-743-1074
visitmacon.org
What is the mission of your business?
The mission of Visit Macon is to unify and lead our community in marketing the Macon-Bibb County area as a superior visitor and meeting destination.
What lessons did you learn because of the COVID-19 pandemic?
Trish: Be flexible and work hard to have a positive attitude. Find the silver lining, too. Having never been a stay-at-home mom, I was with my kids a lot, because they were remote learning. To be able to spend so much time with two teenaged boys was pretty unusual. They're normally constantly on the go, but not during COVID. I was and still am, so thankful for that time with them. And, 2020 was also a beautiful spring so we got to enjoy sitting on the porch, working in the yard, waving to neighbors. Our yard looked amazing! I was also VERY thankful to be employed!
Kim: I learned patience. Being around family in the house most of the time made me more understanding of others and more resolved to find ways to communicate. I also learned to be more creative due to limited supplies. I had to use some old ways and develop new ways to complete daily tasks.
Hannah: The art of adapting to a world that suddenly became so unfamiliar and challenging gave me a new perspective on the way I handle uncertainties. I also saw the way humanity was united and divided simultaneously, and was able to better understand my own inner conflicts versus places of internal harmony. I did my best to nurture a whole new depth to understanding empathy, and what it means to be human, and have found deeper connections because of it.
Ann: I have learned to slow down and not stress about work as much (though some would argue with me on that point). When the pandemic started, the travel and tourism industry basically came to a halt and my daily work routine became drastically different. Learning to accept that change of pace and finding new ways to conduct my job was vital.
Haley: Patience and how to work around rescheduled events while keeping people still engaged in other avenues if needed.
What is your advice for women wanting to start their own business in Macon?
Ann: Macon is ready for you. The community support that I see every day is unlike any other city.
Haley: Set your expectations high and even if things do not work out perfectly, keep striving toward your goal. The road may be bumpy but you must keep travelling on it!
Hannah: Find your support system — it's here, somewhere. Macon is such a supportive community; it's just a matter of weaving that network web, being authentically yourself and finding those genuine people who see the magic in you and in your dreams. They are here, and Visit Macon is a beautiful place to start weaving that web.
How do you define success?
Kim: I define success as small steps to achieve daily to reach a larger goal that will enrich your life. The steps you take should always keep you moving forward.
Ann: I define success in many different ways. Sometimes it's the obvious recognition of a "good job" or "congratulations," but more often I define success in standing back and internally knowing "I did that!"
Haley: Success is knowing that you have put your all into a project and see an outcome that brings pride to both you and those you were working with. Seeing others happy with a final product is a reward within itself.
Trish: Hearing that my peers or my superiors notice and appreciate what I'm doing, how I'm leading, that makes me feel successful.
Hannah: Success is achieving a desirable end, right? Encapsulating every turn it took to get to that end goal — failure included. Success is when I have made it to my end goal, and I can look back, able to equally appreciate the failures with the wins — knowing my momentum comes from the rise and the fall, and not either one alone.
What are you most excited about right now in our community?
Trish: Our position as a music town really has Macon on the cusp of amazing things. As president of the MainStreet board, I'm really excited about all the energy in downtown. There are so many individuals and organizations that are working hard to do good things in Macon. Our city is really fortunate to have such talented and eager folks with good ideas.
Ann: Macon continues to grow and flourish even during the pandemic. Hotel Forty Five, a new amphitheater, the Otis Redding Center for the Arts, any festival you can think of to attend!
Hannah: The hum of our community; the sound and the rhythm of the energy here is becoming louder and louder. Particularly, our efforts toward being more widely recognized as a music city. Great things are coming — you can feel it.
What is the most gratifying part of your job?
Haley: I enjoy highlighting the positive activities, events, community, businesses and destinations that Macon has to offer!
Trish: Helping people connect with the resources they need.
Ann: I love getting to share Macon with event planners around the world and opening their eyes to all that we have to offer in culture and entertainment. Also, I have been able to build so many relationships in Macon through my role. It's really exciting to look forward to meetings because you know you're going to have fun.
Hannah: I have loved being able to enhance my perspective and the perspective of others on our city by getting to know Macon and our community better through my role at Visit Macon. Playing tourist in my own town is enlightening and always fun in its own way, and building and nurturing connections as a part of the Visit Macon team is just as rewarding. I think one of my favorite parts of my job, and probably the most rewarding, is when I have an opportunity to shine a spotlight on a local talent, venue or business who deserves to be highlighted and appreciated for who they are and how they show up for themselves and for Macon. I absolutely love creating spaces for those opportunities whenever and however I can.
I admire women who:
Trish: Support and encourage other women.
Kim: I admire women who know who have figured out who they are as a person, and they are not afraid of sharing who they are with you.
Ann: Have a quiet strength to them, are gracious, and embody Southern charm. They walk into a room commanding attention without even a word.
Hannah: I admire women who admire themselves and approach life with an open mind — women who find and feed their confidence from within, and then inspire that same self-love in others. I admire women, and people, who are authentically themselves and who treat people with kindness.
What was the best business advice you ever received?
Haley: If you keep working toward your goals, it will work out in the end. Failure is normal and great to learn lessons from that you can use in the future.
Ann: Don't be afraid to advocate for yourself. For some time, I was the meek person in the office and did not speak up for myself. I missed some opportunities because I did not show what I was really made of and did not take credit for things I had done. Take credit for your accomplishments, and don't let any one walk over you as they're climbing the mountain.
Hannah: Find balance. You are bound to lose your grip and lose your balance when you are carrying too much. Find your counterweights to keep you centered, to keep you balanced. Make time, even the small windows of it, to tend to yourself and your mental, emotional and physical health. You won't make it very far even with your best foot forward if you don't tie your laces.
I hope more women will:
Ann: Stop holding themselves back. Sometimes our biggest obstacle is ourselves thinking we can't when we absolutely can!
Trish: Give themselves grace.
Haley: Trust their intuition and don't give up on their goals despite what others may say. Use the feedback to encourage you and implement strategies that will lead you to completing your goals.
Hannah: Be unapologetic in their power.
How can women better support each other?
Haley: Be the helpful ear that we all need at times. We must give each other advice and continue to build one another up.
Trish: Give each other grace. Remember that we're all walking our own path and doing the best we can. If you can, be a mentor. Set a good example for others.
Ann: I like to see people, men or women, celebrating each other and not judging. Be a positive and encouraging force to those around you. I once heard someone say, "don't knock the girl for wearing the boots you want. Go up to her and say, 'great shoes!'"
Kim: Women can support each other by encouraging each other, showing up for each other and investing in each other.
Hannah: The same way I hope everyone supports each other — with the right intentions, with kindness, with open ears and open hearts and with equality in mind.
How can men better support women business owners/leaders?
Haley: Take any bias out of the equation and treat women as they would any other business partner.
Kim: Men can support women by listening and treating them as equals.
Ann: I feel blessed to have strong male support in my life that celebrates my success. From my wonderful husband to our leadership at Visit Macon, I never feel inferior or slighted. My advice to men would be to mimic this with gusto.
Looking back, I wish I had known/recognized ________.
Haley: That hard work and resiliency is needed to see true progress and sometimes the progress within itself is how you have learned to handle challenges and overcome them.
Kim: I wish I had recognized my strength. I think we are all stronger than what we believe. We spend so much time focusing on our weaknesses that we don't always stop to recognize what we have accomplished. Recognizing my strength would have made it easier to navigate through life.
Ann: Recognized I wish I had known my own strengths and what I can contribute to a team. I am finally coming into my own in this industry and loving every minute of it.
Hannah: That I am a force. I wish I had sooner recognized the ways that I was my own worst critic, and shifted the way I saw myself and all that I am capable of.
In five years, I _________.
Ann: I will let you know how the past five years went. I hope travel and tourism and Visit Macon are still part of my life and I hope personal travel, preferably to a beach, becomes a more frequent occurrence.
Haley: Want to look back at multiple projects that I helped lead and have pride in the work I have contributed to. I also still want to hold onto the characteristics that allow me to push myself out of my comfort zone and never be satisfied with mediocrity! I see myself becoming a role model that other women can follow and look up to in the field of communications.
Hannah: I will be five years older with five years of opportunities to grow under my belt. I have high hopes that I will use them wisely.