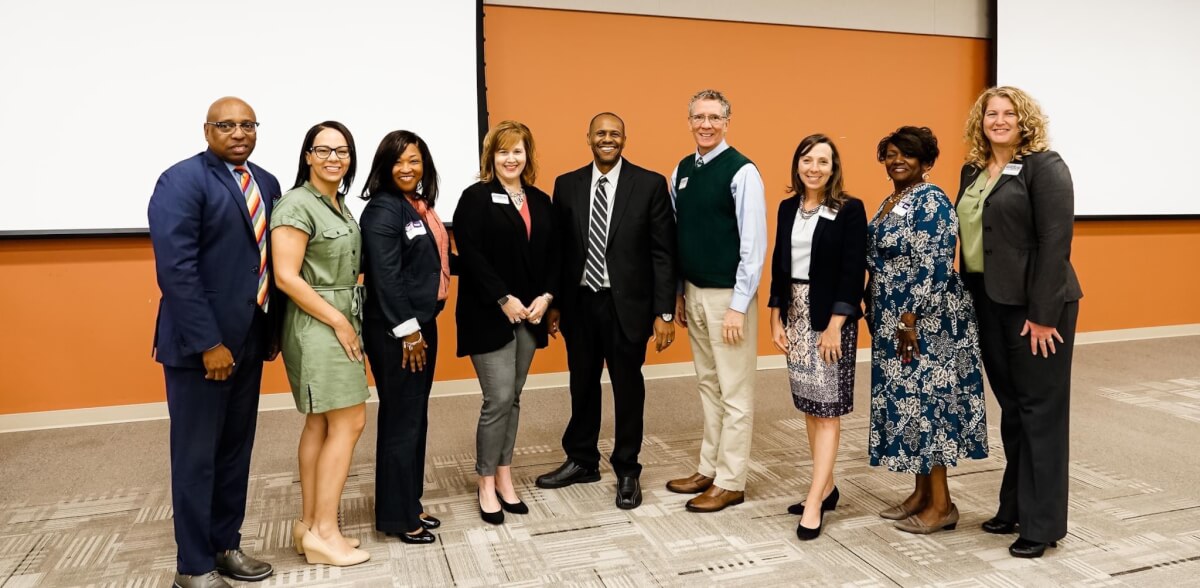 A higher calling
By Lisa Mayfield Spence
Photography by Matt Odom and Georgia College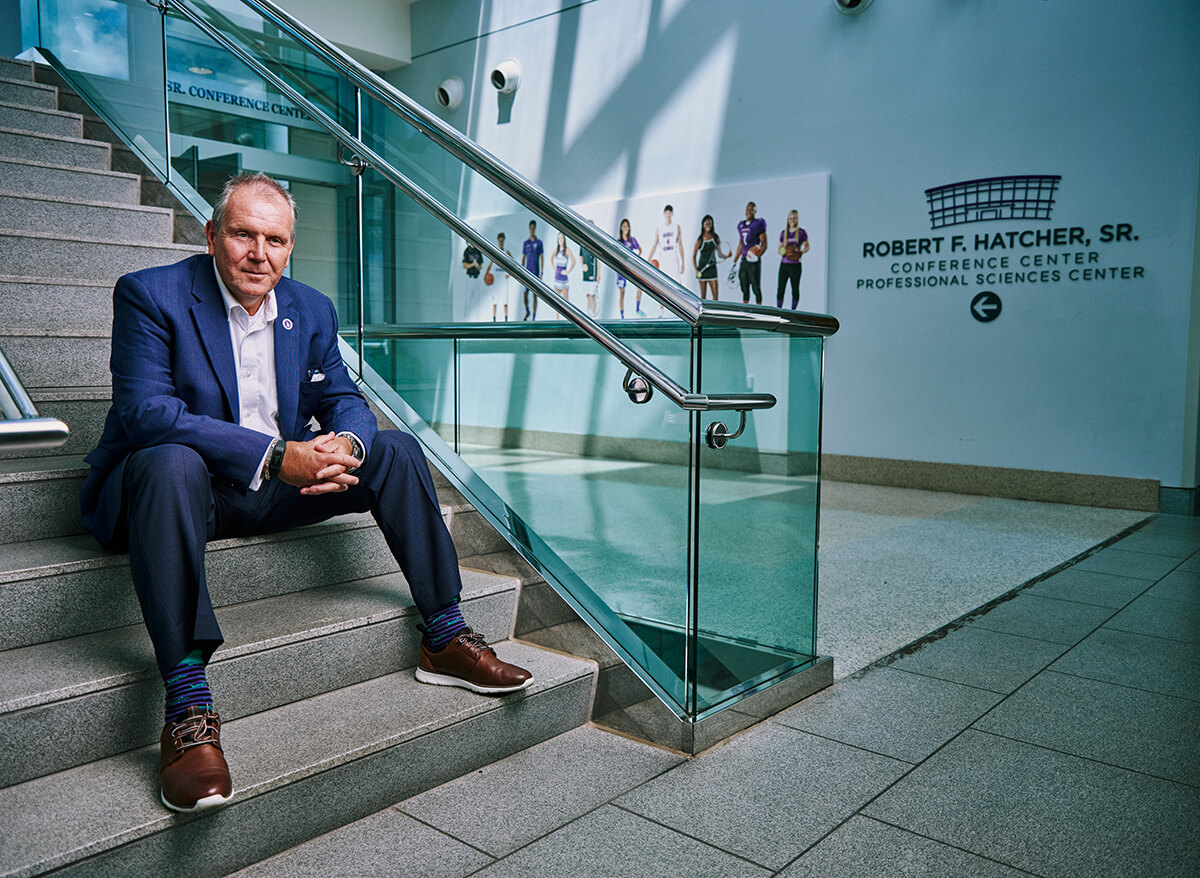 Middle Georgia State University: President Christopher Blake
A relatively "young" university by most standards, Middle Georgia State University (MGA) is leading the change and redefining the role of collegiate higher education. Blake, originally from Wimbledon, England, has been at the helm since 2014. Under his leadership, the university has expanded its academic offerings and transitioned from an institution formerly known as Macon State College to one also offering master's and doctoral degrees.
Blake holds bachelor's and master's degrees in theology from Keble College of the University of Oxford, a postgraduate certificate in education from Westminster College (Oxford) and a Ph.D. in education from King's College of the University of London.
One of the school's great accomplishments of the past few years, according to Blake, is the development of "niche" programs in aviation, nursing, and information technology at Middle Georgia. Programs of study such as these have proven themselves to be a major draw for students living out of state and out of the country. Additionally, MGA is one of only nine schools – and is the most affordable of the nine – in the United States with three FAA-certified programs.
"Our strengths are directed to degree credentials that build careers, strengthen communities and drive economic growth – all here in Georgia," Blake said. According to Blake, more than 85 percent of the university's graduates live in Georgia, the vast majority of whom come from within 80 miles of the Macon campus. Middle Georgia has positioned itself to cater to new undergraduate students who benefit from a traditional college experience as well as working adults who need a more flexible alternative through the university's robust online offerings, Blake said. The university's footprint is across 170 miles of Middle Georgia, with five campuses located in Macon, Cochran, Warner Robins, Dublin, and Eastman. Multiple campuses and online offerings allow more people to benefit from the university's affordable public tuition, Blake explained. "We are the most affordable university in Georgia, if not the Southeast, with an extraordinarily low tuition rate, and yet we deliver some of the finest academic credentials at all levels," he said.
Spearheading the development and implementation of strategic plans, Blake has identified priorities to steer the institution through incremental changes. At the center of these priorities are the students. With a focus on student success, the university has increased its graduates each year, setting a record in 2022 for the most in its history.
Blake said he has learned much about MGA in the years he's been in its highest position of leadership. An organization can be both complex and clearly focused, he explained. "Our employees and students embrace that as it is consistently put into practice," he said. "At the same time, our stakeholders realize we are both – an institution that is both traditional and non-traditional, both in-person and virtual, both local and regional.
"Now, more than ever, we are stronger, more vibrant, and more ready for impact," he continued. "Our students know they can gain a great education that prepares them to become high-performing professionals and to find their greatness."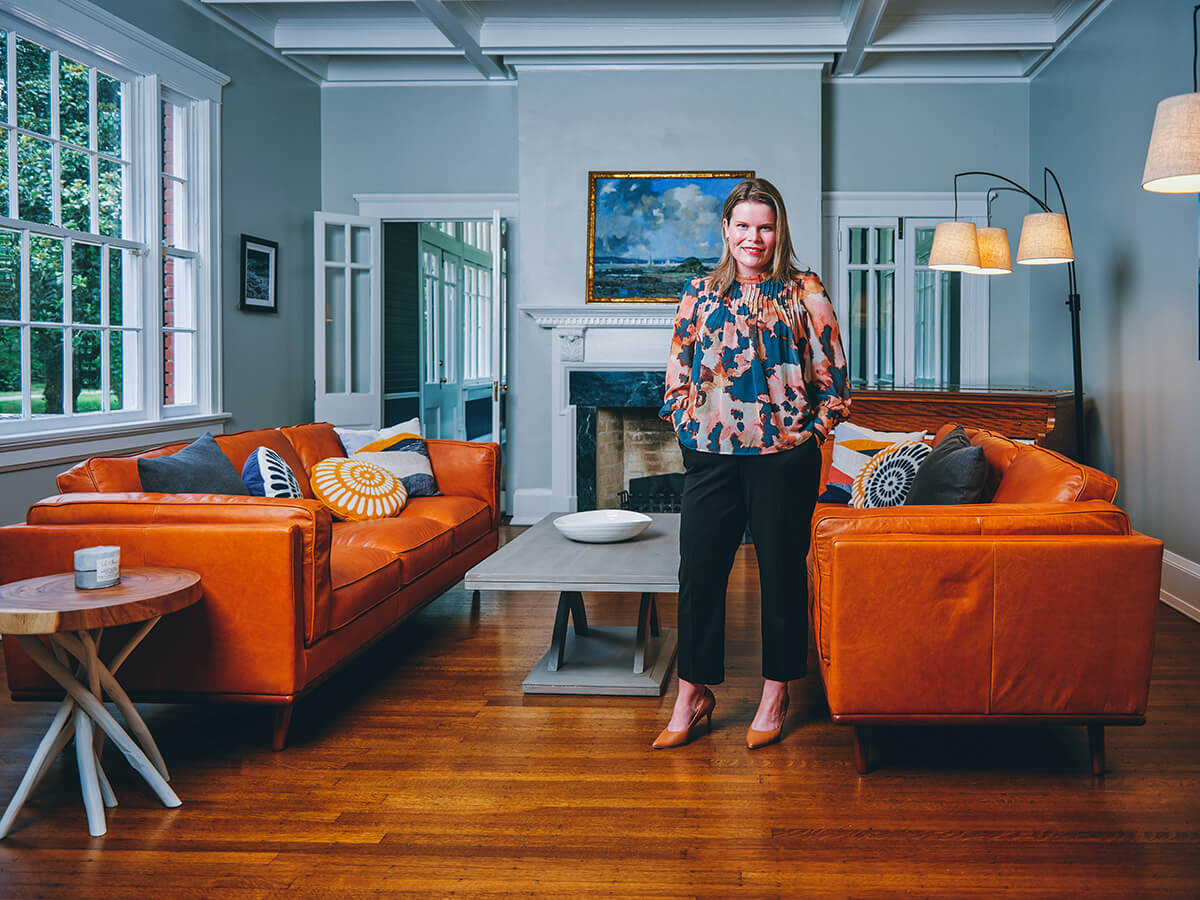 Wesleyan College: President Meaghan Blight
The newest college president in the region is President Meaghan Blight, who became the institution's 26th president last month. Blight came to Wesleyan from Huron University College in London, Ontario, where she served as vice president of university growth and chief of staff for the last eight years. With a bachelor's degree in political science from McMaster University and a master's degree in organizational leadership from the Lang School of Business and Economics at Ontario's University of Guelph, Blight is poised to lead. As a newcomer to both Wesleyan and the Middle Georgia region, Blight is energized by the part the college plays in the community and the world.
"Wesleyan's strength is in giving women, and those who identify as women, the tools they need to graduate and lead," she explained. "Big ideas are born in small classrooms – classrooms where each student can be nurtured for their individual gifts and contributions. Small classrooms allow students to be seen, heard and valued, providing a safe place to author ideas, debate material, and challenge personal perspectives." The Wesleyan campus is known for offering a curated student experience with a focus on developing women who have the desire, skills, and confidence to lead.
As the first college in the world to charter degrees to women, Wesleyan has been in the business of accelerating equality for women since 1836. "We create a space which prioritizes the female voice, female issues, and rights," Blight enthused. "We attract women who are committed to the pursuit of gender equality and know that the best way to reach gender parity is through the advancement of uniquely female spaces and places which protect and honor a women's perspective and autonomy."
Blight also points out Wesleyan's strength in attracting international students. "We are an attractive option for many students and their families," she said. "At Wesleyan, you will never be just a number or get lost in the crowd. When considering sending their children abroad, international families want to know their daughters will be welcomed, safe, and supported." From the moment women step onto the Wesleyan campus, they can feel the culture of care that the college's faculty and staff so proudly provide, Blight explained. "There are no 300-seat lecture halls, no red tape, and no long wait times when seeking academic advice, internship opportunities, or wellness support," she explained. "We are a community first, and everyone on the Wesleyan campus is personally invested in the success of each student, both locally and abroad."
With that national and international presence in mind, Blight is focused on growing Wesleyan's brand recognition and attracting high-performing women from across the globe. "We are actively fundraising to support strategic initiatives and capital revitalization plans," she added. "Our history is rich, and I feel very privileged to be a part of it."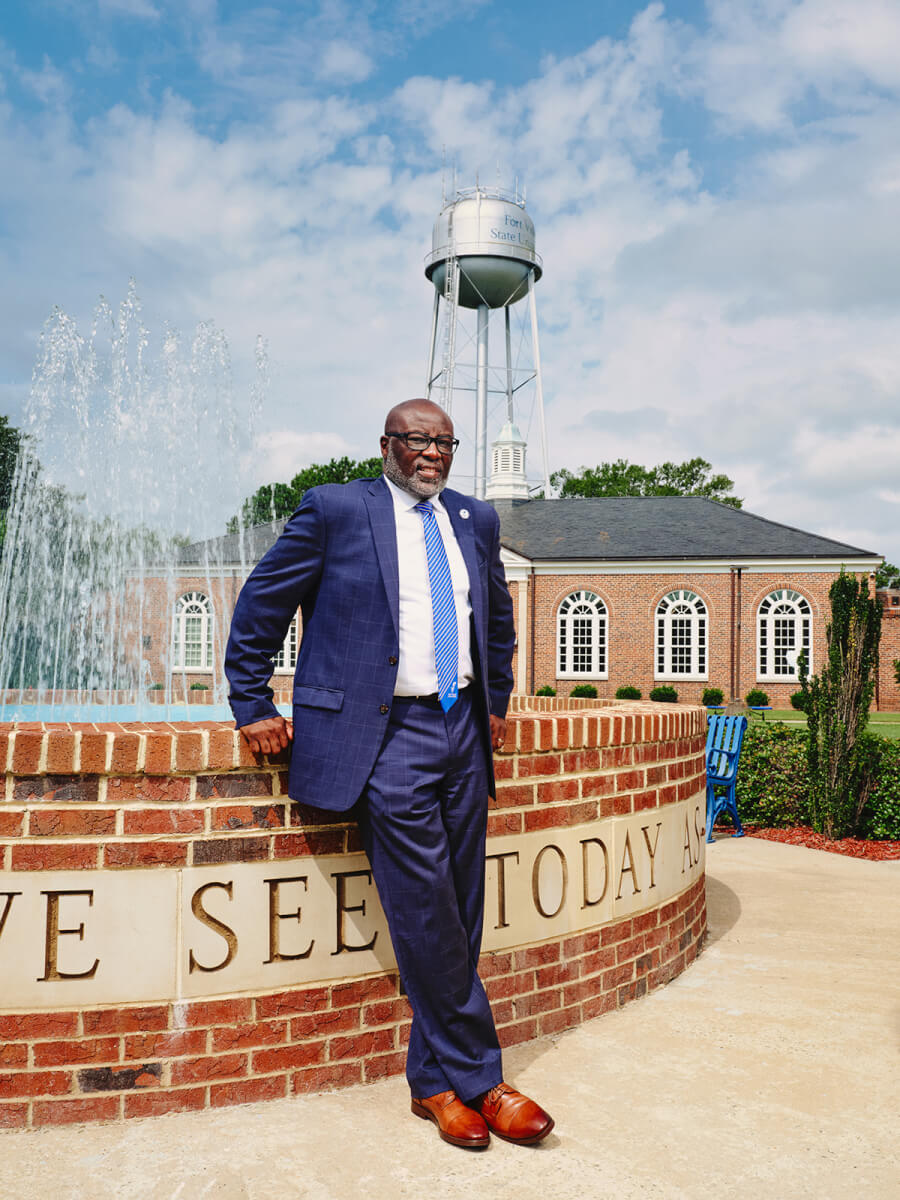 Fort Valley State University: President Paul Jones
Dr. Paul Jones can't help but be proud of the good things going on at Fort Valley State University – and there's a great deal to talk about. "FVSU has been ranked as Georgia's 31 Public HBCU for the third straight year, according to U.S. News & World Reports," he said. Additionally, Jones reported, the university has one of the most beautiful and spacious university campuses in the nation and offers an exceptional value. "While our tuition is among the lowest in the nation, we also provide a high-quality academic experience, including hands-on research as early as freshman year and providing training in key success 'soft skill' areas such as communication, emotional intelligence, and self-awareness," he said.
President Jones has been at the helm of FVSU since late 2015, when he was appointed its 10th president. Prior to joining FVSU, Jones had a higher education career that spanned more than three decades, including an interim presidency at Darton State College in Albany, Georgia, and several senior leadership roles at Georgia College & State University. Jones relishes the opportunity to strengthen FVSU's niche in the landscape of higher education. Along with making higher education accessible to more students, especially those of color, he explained the university is exceptionally adept at taking academically gifted but often under-resourced students and elevating them from where they are to where they need to be. "Our graduates advance from our institution as change agents, leaders, scholarly researchers, and strategic problem solvers," he said. "At the same time, they're prepared for graduate school and careers that positively change the trajectory of their lives for the better."
Within the realm of higher education, FVSU leverages its nearly 125-year tradition of excellence and uniqueness in delivering relevant and future-focused academic and co-curricular programming to educate students of all races, genders, and cultural backgrounds from all over the world, according to Jones. "We are building on our expertise in transforming individuals," he said.
A native of Los Angeles, Jones earned his bachelor's and master's degrees at Utah State University. He also holds a Ph.D. in education and human resource studies from Colorado State University. Jones has a clear vision of the future for FVSU: "I'd love to see FVSU grow and leverage our university's immense knowledge base around agriculture-based research to impact further real-world problems such as food deserts, food safety, sustainability, and agricultural productivity," he explained.
The worldwide pandemic of recent years taught many lessons, he said, among them the need to not rely so heavily on the global supply chain when it comes to providing core dietary staples. "By using the research capacities at FVSU and other 1890 Land Grand Institutions, our state, region, and country can be better prepared for the future and provide for the needs of its citizens," he said. "We must look back home to institutions of higher learning like Fort Valley State University to address some of our most pressing problems.
"Historically, our university is referred to as 'the light in the valley,'" Jones continued. "Our legacy is built upon the belief that every human being is entitled to limitless learning and the benefits of knowledge."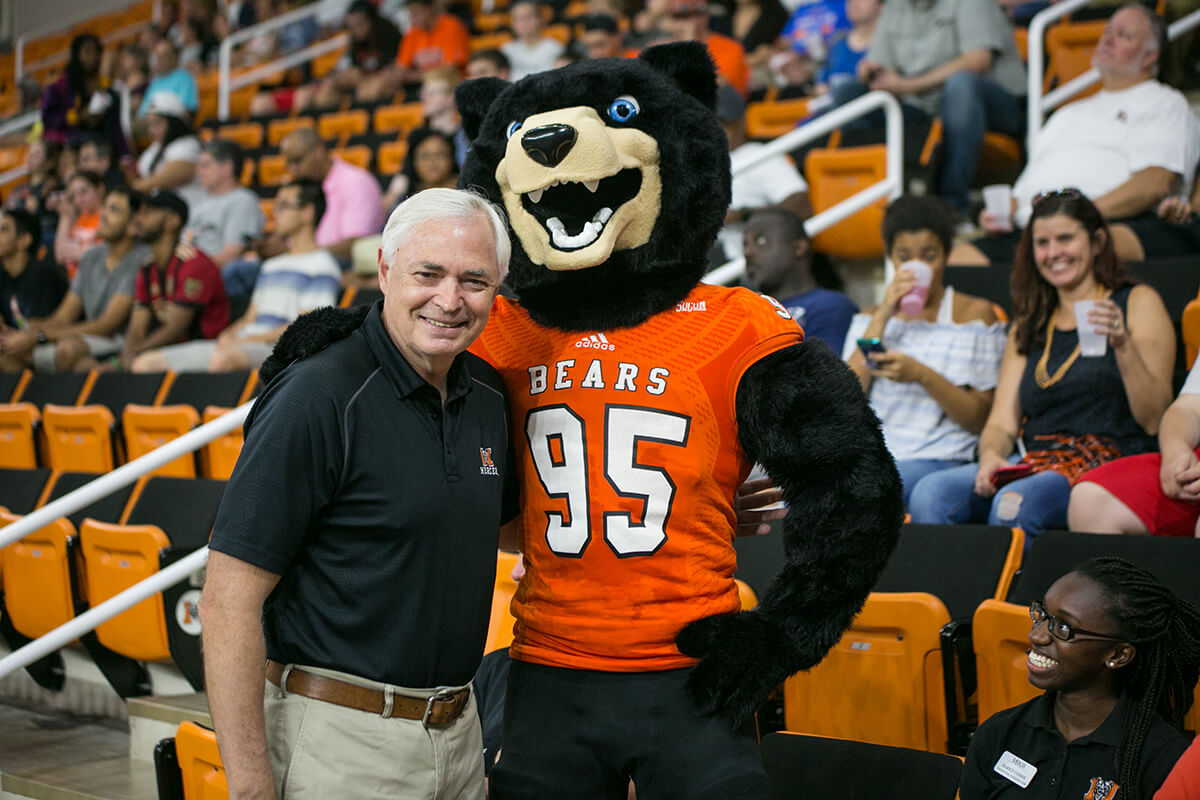 Mercer University: President William D. Underwood
"One of Macon's many strengths is its higher education community," noted President Underwood. "We have it all…from an excellent technical college to a fine public access university, to a quality women's liberal arts college, to a first-tier private research university. Macon is emerging as one of the best communities in which to live, work, and play in the Southeast."
Before Underwood's appointment as Mercer's 18th president in 2006, he served as the interim president and Leon Jaworski Chair of the School of Law at Baylor University in Texas. Prior to Baylor, Underwood was a courtroom lawyer in Dallas and had served as a law clerk to a judge on the United States Court of Appeals for the Fifth Circuit.
President Underwood has led Mercer during a dynamic period of growth and development; enrollment has increased by more than 25 percent to more than 9,000 students and has added two more medical school campuses. Additionally, the university has initiated master's level and doctoral programs in numerous medical fields, educational leadership, and curriculum and instruction. U.S. News & World Report ranks Mercer among the top tier of national research universities.
"Mercer is a first-tier national research university with strength in a number of disciplines that are growing in demand," Underwood explained. "We have robust research in disciplines such as the health sciences, engineering and computer science. Reputation and programs matter, but our commitment to integrating our research and service missions resonates strongly with many prospective students." These are students, Underwood said, who are eager and impatient to begin putting their gifts and talents to work making a difference in the world.
Mercer University has a tremendous commitment to deploying the academic resources of the school to improve the human condition, according to Underwood. "I see this commitment in the rural medicine clinics across the state operated by Mercer's School of Medicine," he said. "I see it in a prosthetics program in Southeast Asia, where Mercer biomedical engineers and students have now fit more than 17,000 land mine victims and other amputees with high-quality but low-cost prosthetics developed in our laboratories.
"I see it in a program where chemists working with students have designed technology that protects gold miners in South America from mercury contamination," Underwood continued. "Better than any university, Mercer integrates the service mission of the university with its research mission to positively change the lives of its students and those who are being served."
Underwood said Mercer's connection to both Macon and the world is substantial. "Prospective students who visit our campus can't help but feel the genuine warmth of this community, a place where people authentically care about one another," he said. "In turn, perhaps Mercer's most important contribution to Macon is attracting, developing, and retaining talented, creative, and diverse leaders for our community. As Mercer continues to grow as an institution, my hope is that this contribution will grow with us."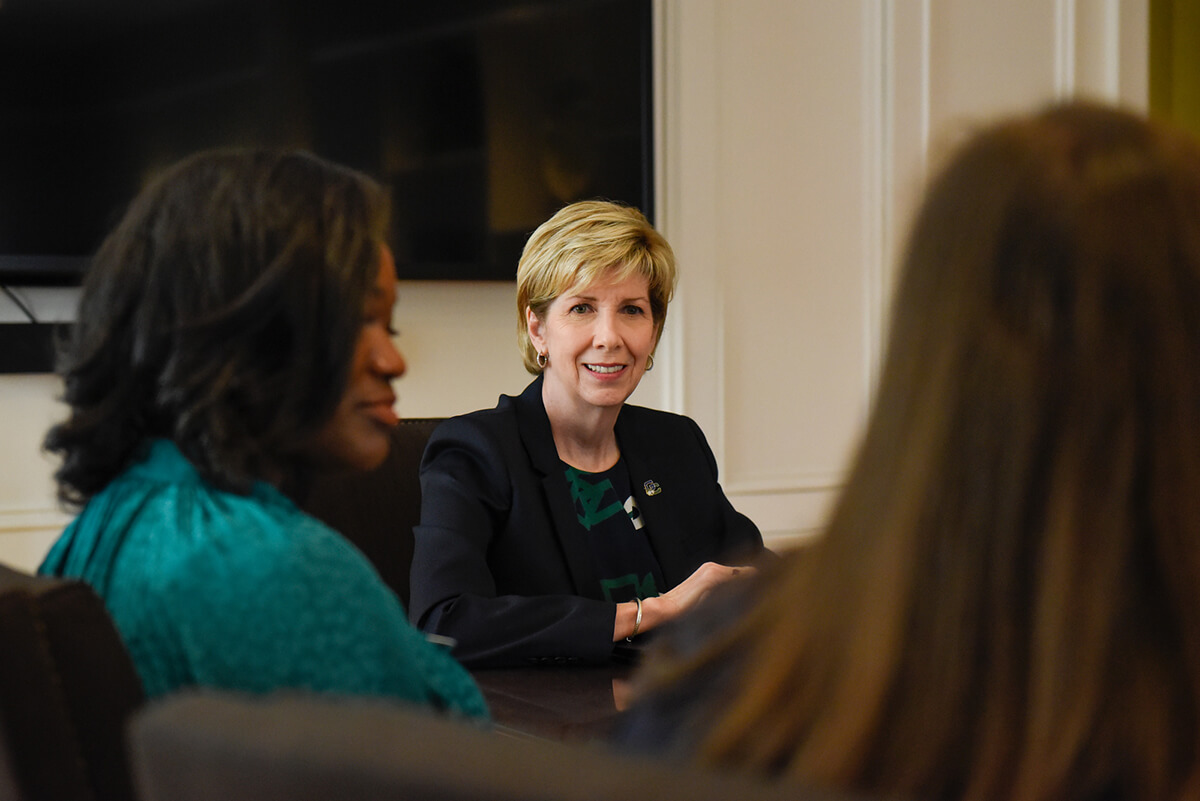 Georgia College & State University: President Cathy Cox
"Georgia provides a rich array of higher education options for students, and middle Georgia, especially, has something to fit every student's choice," explained Cathy Cox, president of Georgia College & State University. GCSU's strengths are many, she said. Though she's only just finished her first year at Georgia College, President Cox said she's learned a great deal about the institution. "I knew coming in that GCSU was one of the three selective-admissions universities in the University System of Georgia [University of Georgia and Georgia Tech being the other two], but I've learned how central that is to what we do and how we do it," she explained. "By being able to admit some of the very brightest students in the state, we also attract and retain strong faculty who challenge these top students to do amazing things in research, leadership, creative pursuits, service, and more."
President Cox came to GCSU from Mercer University, where she was dean of the School of Law. Prior to that appointment, Cox previously served as Georgia's secretary of state, served as a member of the Georgia House of Representatives, and was the 21st president of Young Harris College. She holds an associate degree in agriculture from Abraham Baldwin Agricultural College, a bachelor's degree in journalism from the University of Georgia and a juris doctorate from Mercer University's Walter F. George School of Law.
Georgia College has a very special "niche" in the higher education market, according to Cox. "For the past 25 years, GCSU has been the state's designated public liberal arts university," she said. "That's a very special designation that changed the mode of teaching, the curriculum, the experiential learning opportunities, and the entire campus experience to provide opportunities very much like a private liberal arts university at a public college price."
GCSU also offers a unique pre-med mentoring program unlike any other in the state, Cox said. "It prepares them to be successful in medical school and in practice afterward. It's an intensive, application-admission program that meets essentially for a full year, although some students choose to stay longer. We have a 100 percent success rate in getting students admitted to medical school," she said.
There's even more to brag about at GCSU. "Georgia College has the highest graduation rate of any public NCAA Division II university in the country," Cox said. "Not just in Georgia, but in the whole country! Our student-athletes are not just superb athletes, they are incredible students focused on careers, graduate schools, and truly changing the world."
Georgia College has been focused on leadership since its earliest days as a women's college founded in 1899, Cox explained. "We've been co-ed for 55 years now, and still make leadership a central tenant of what we teach, and what we expect of our graduates.
"Good leaders matter, and we aim to grow them at Georgia College," Cox continued. "As a new president, I've got plenty of hope for continued growth at GCSU. I hope we can elevate our stature and raise our profile even further as we go through a new strategic planning process in the coming year. In all that we do, we want to be innovative in our approach to the best of higher education."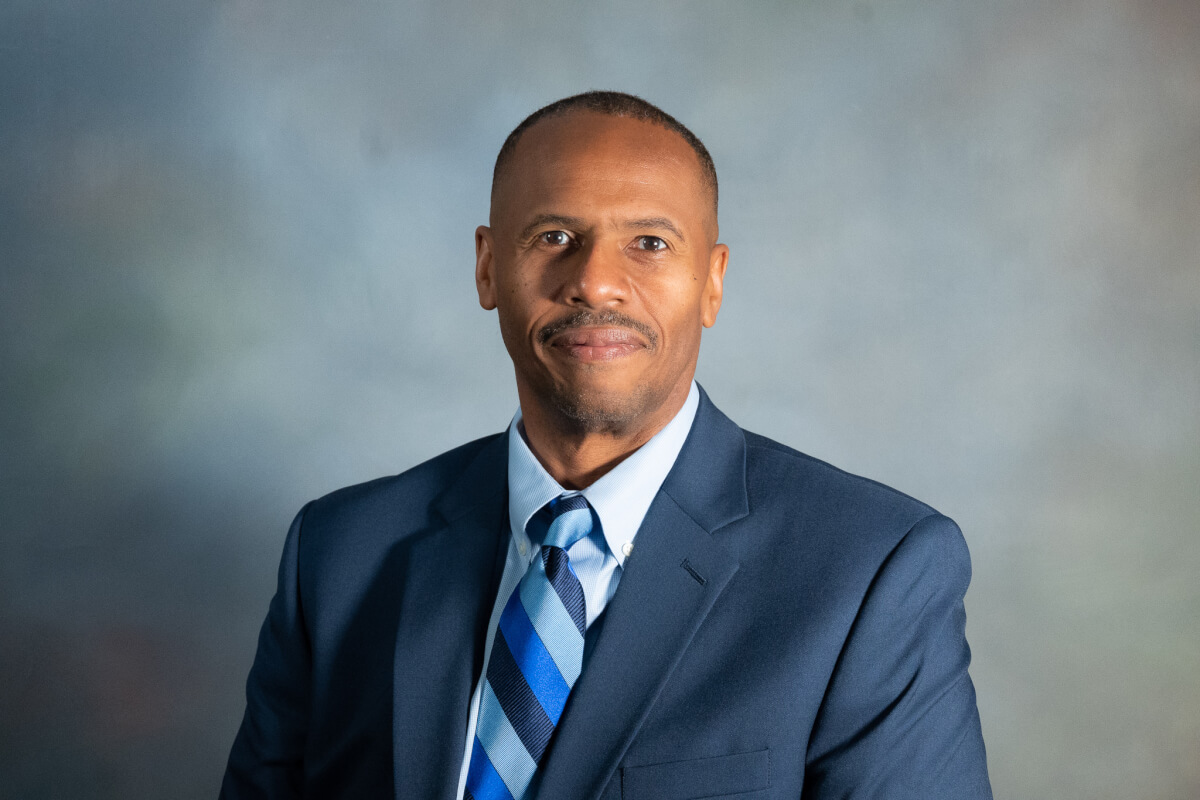 Central Georgia Technical College: President Ivan H. Allen
President Allen has a long history of growing Middle Georgia's technical colleges. In 2005 he was selected to serve as president of Middle Georgia Technical College in Warner Robins; in 2013 the college merged with Central Georgia Technical College's campuses in both Macon and Milledgeville to form the new Central Georgia Technical College, where President Allen continues to serve and enlarge its programs. Under his leadership CGTC has expanded its reach in global proportions, developing educational and training partnerships with countries around the world through its Global Initiatives program. Now, the college hosts annual study abroad experiences and, in turn, hosts faculty, staff and students from around the globe.
A native of Macon and graduate of Mount de Sales Academy, Allen is a Phi Beta Kappa graduate of Morehouse College, holds a master's degree in public administration from Georgia College & State University and earned his Doctor of Education from Nova Southeastern University.
Central Georgia Technical College is committed to developing a strong workforce and promoting the economic vitality of central Georgia, according to Allen. "By supporting local businesses and partnering with community leaders to help recruit new industries to our area, we ensure that our graduates will have the opportunity to put their education to work," Allen explained. "We guarantee that our graduates are prepared to work productively and efficiently meet workforce standards."
A cornerstone of the CGTC experience is ensuring that students achieve their educational goals with little or no debt through the use of cost-effective educational options that allow students to obtain a quality, comparable education in a practical amount of time. "By partnering with the local business and industrial community through program advisory committees, we ensure that our students are using the latest technology in the classroom," Allen reported. Technology in the CGTC classrooms is equivalent to what is found in the field; techniques learned by students are comparable to those of skilled professionals.
"CGTC is focused on providing a well-rounded collegiate experience to help shape the leaders of tomorrow," Allen continued. The college encourages students to participate in some of its many student organizations and extracurricular activities, too. "These opportunities can help foster relationships and build leadership characteristics that can be utilized in any career opportunity."
CGTC cooperates effectively with local businesses and industry to meet their employment goals. "By working together, we can all positively impact the future of our region and state by promoting and bettering the development of our local workforce," Allen said.